The Takeaway: Weight Watchers, Fashion Icons and Middle Ageism in America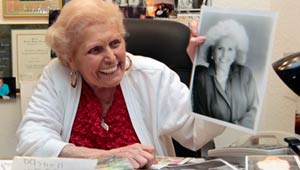 Weight Watchers Works: I've got to admit, I'm skeptical of formulaic diet plans like Jenny Craig and Weight Watchers (call me old-fashioned, but I prefer the more-veggies, less-cheese method of losing weight to complicated numerical calculations). But the latest Weight Watchers cheerleading comes not from a celebrity spokesperson or TV host but Britain's Medical Research Council. In a randomized, controlled trial (the gold standard of scientific studies), researchers found overweight patients following the Weight Watchers plan lost around 50 percent more weight in one year than people who tried standard diet-and-exercise. More people stuck to Weight Watchers, they lost more fat, and shaved more inches from their waists, as well.

The study "proves that Weight Watchers is part of the solution to help transform the health of nations," said Weight Watchers CEO David Kirchhoff.

If you'll permit me one more moment of skepticism here: Would these results really hold in a more long-term study? I understand Weight Watchers appeal-people like having a system that tells them exactly how much to eat of this or that. Healthy eating is confusing, I agree! But how many times have you seen someone drop pounds on one of these commercial diet plans only to gain it all back once they quit? If Weight Watchers can jump-start folks on their diets, more power to them-but in the long run, there's no substituting learning to eat for health.

[Of course, Weight Watchers founder Jean Nidetch, 87, says she still lives by the diet plan she started 50 years ago, so maybe it is possible to stick with it! Nidetch recently weighed in at 142 pounds, exactly the goal weight she first reached in 1962.]

What, Me Retire? "Retirement is for old people," said superstar Italian designer Valentino Garavani, 79, at a Fashion Institute of Technology awards luncheon in his honor Wednesday. Despite his official retirement in 2008, Valentino remains busy, in the fashion world and doing charity work with senior, animal welfare and HIV/AIDS organizations. Keeping busy, said Valentino, "keeps me in a very good mood and alive."

Middle Ageism in America: Even though it's illegal, eliminating midlife and older workers has become a tacit business practice, according to aging activist Margaret Morganroth Gullette.

"Younger people are not only cheaper, but also less likely to remember what decent hours and wages and security were like."

Older workers "have no idea" how likely they are to experience age discrimination, which means they tend to blame themselves, laments Gullette. But it's not just boomers who suffer-American 'middle ageism' ruins the expectations of the young and "shreds the American dream of making progress over the life course," she says.

Let's Get It On ... Or Else. In France, a judge fined a 51-year-old man about $13,500 for not having enough sex with his ex-wife during their 21-year marriage.

"By getting married, couples agree to sharing their life and this clearly implies they will have sex with each other," he said.

Thursday Quick Hits: Spike in heart disease in older women due to aging itself, not altered hormones or menopause ... 17 million U.S. households lack a proper diet ... Elizabeth Taylor's iconic jewel collection is being auctioned, with part of the proceeds going to Taylor's AIDS Foundation ... And Tony Bennett talks to AARP about Aretha Franklin, Amy Winehouse and the Great American Songbook.

See "In the News" for more on current events, entertainment and how it all relates to you.

(Photo: Alan Diaz)