Tom Verna: He Invented Instant Replay
By Patrick Kiger , January 21, 2015 05:01 PM
There was a time when sports fans watching a live game on TV had no choice but to play close attention throughout. If they missed a spectacular play while reaching for the bowl of chips, they didn't get a second chance to see it.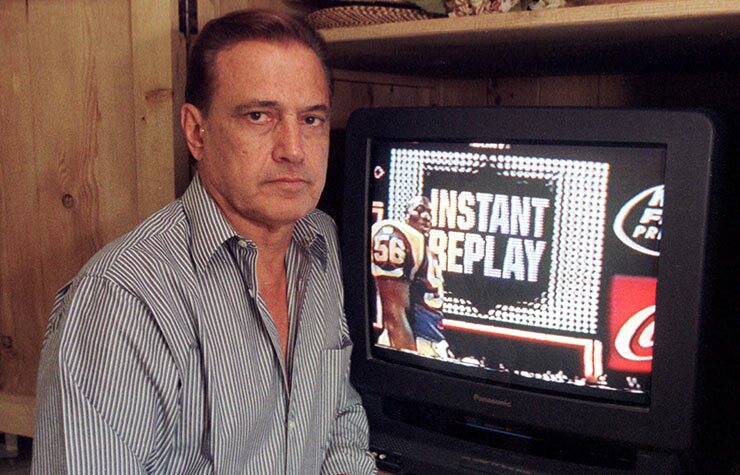 TV sports director and producer Tony Verna changed that. Verna, who passed away on Jan. 18 at age 81, introduced the instant replay in 1963, basically videotaping the game and rerunning key moments to fill time between plays during the live broadcast. It not only changed how fans watched sports, but ultimately influenced the way that they were officiated as well.
>> Famous People We've Lost in 2014
Here are a few intriguing facts about Verna and his influential creation.

According to sports historian Dennis Deninger, Verna, a producer at CBS, took one of the network's 14 videotape machines — the size of a small car and filled with fragile vacuum tubes — from New York to Philadelphia to try out his idea during the broadcast of an Army-Navy college football game.
His inspiration was to mark the beginning of play by putting two quick audio tones on the sound track when the offensive team broke huddle, enabling him to quickly rewind and then show the play again.
Because 3M videotape cost $300 a reel in those days, Verna was taping over an old recording of an I Love Lucy episode and worried that if the game recording didn't take he'd accidentally show Lucille Ball to the TV audience.
When Navy quarterback and future NFL Hall of Famer Roger Staubach played poorly that day, Verna introduced instant replay with a fourth-quarter touchdown run by Army's less heralded quarterback Rollie Stichweh.
When the replay ran, play-by-play announcer Lindsey Nelson felt compelled to tell the audience: "This is not live. Ladies and gentlemen, Army did not score again!"

>> Get discounts on health services with your AARP Member Advantages.
Here's a 2012 interview with Verna, in which he says that former NFL Commissioner Pete Rozell was upset that he didn't use instant replay on a pro game first.
Photo: Chris Pizzello/AP
A lso of Interest

See the AARP home page for deals, savings tips, trivia and more.