The Takeaway: Tommy Chong Fights Prostate Cancer (Guess How He's Treating It?)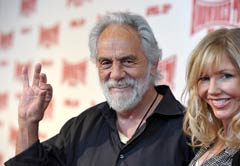 "Comedy duo Cheech & Chong have long been associated with pot," starts a recent USA Today post about actor and comedian Tommy Chong, now 74. "Associated with" is kind of an understatement-the pair pretty much invented the stoner comedy. Chong has recently been back in the news talking about marijuana, albeit in quite a different context: Diagnosed with prostate cancer, he said he's been turning to cannabis to treat disease symptoms such as wooziness.

I've got prostate cancer, and I'm treating it with hemp oil, with cannabis," Chong said, explaining that he doesn't smoke marijuana but ingests the hemp oil. "So (legalizing marijuana) means a lot more to me than just being able to smoke a joint without being arrested."

Chong described the cancer as "a slow stage one" that he's had for years, though it was only diagnosed about a month ago.

Watch: Cheech Marin's Love for Chicano Art >>

It's probably important to note that while hemp oil and marijuana (medical or otherwise) may help with some symptoms of cancer, there's no evidence that help treat the underlying disease. Medical marijuana champion and Harvard psychiatry professor Lester Grinspoon told the Daily Mail:

There is little doubt that cannabis now may play some non-curative roles in the treatment of this disease (or diseases) because it is often useful to cancer patients who suffer from nausea, anorexia depression, anxiety, pain, and insomnia.

But while there's "growing evidence from animal studies that it may shrink tumor cells and cause other promising salutary effects in some cancers, there is no present evidence that it cures any of the many different types of cancer," he said. "I think the day will come when it or some cannabinoid derivatives will be demonstrated to have cancer curative powers, but in the meantime, we must be very cautious about what we promise these patients."

Wednesday Quick Hits:

Daughters of boomers give more financial help to parents. The number of younger women who provide support to boomer parents is increasing, according to new research. Two-thirds of boomers' daughters say they provide some sort of parental financial support, up from 48 percent in 2007.
More money, less dropouts? A survey finds retirement savers are more likely to stay in their 401(k) plans when they are automatically enrolled to contribute more than 3% of their salaries.
Photo: John Shearer/WireImage/Getty Images