Watch Your Wi-Fi! Most Devout Users Are Clueless About Risks, AARP Finds
Although some 84 percent of American adults who use the Internet access it on a daily basis, new AARP research finds that many continue to engage in risky online behaviors — especially at free Wi-Fi hot spots that are potential hotbeds for computer hacking.
While a quarter of the 800 adults surveyed for the new report said they use free public Wi-Fi at least weekly, most are clueless about the potential risks. And nearly half of the respondents flunked a seven-question quiz on online and wireless security.
So, AARP is launching " Watch Your Wi-Fi" to educate Web surfers on risks and protective measures when using public wireless networks. And in August, many state offices throughout the U.S. will begin to offer free forums on cybersecurity.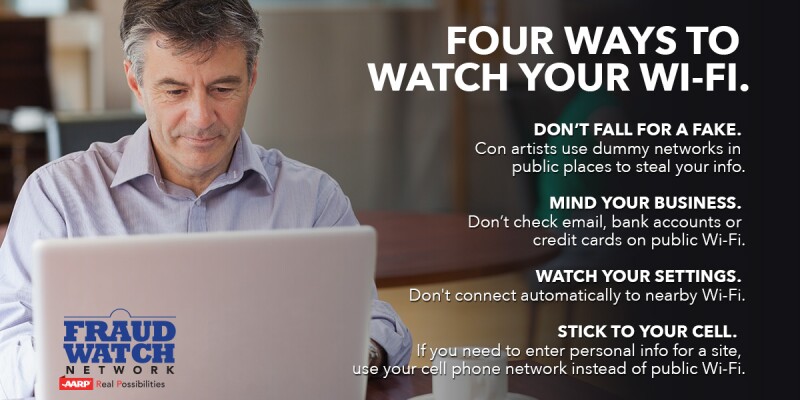 Why that's important: At up to 95 percent of public Wi-Fi hot spots in airports, hotels, coffee shops and elsewhere, data sent and received by users is not encrypted to prevent unauthorized access.
Without encryption (provided with wireless routers and other equipment at home and on workplace wireless networks), nearby hackers using readily available monitoring software or lessons learned in online tutorials and videos can intercept what you're doing on your laptop, tablet or smartphone — and get your files, photos, passwords, credit card numbers and other sensitive data.
Among the riskiest online habits revealed in the Fraud Watch Network report:
1. Some 27 percent said they use public Wi-Fi for online banking and shopping — yet most don't monitor their bank or credit card accounts online, which provides quicker alerts to fraudulent activity.
2. Half haven't changed their passwords in the past three months. One in 10 respondents have never changed their passwords.
3. One in four smartphone users don't have a passcode on that device, allowing anyone who finds or steals it to access their files, emails, photos and other data.
As part of this new report, respondents were asked seven true or false questions about cybersecurity – and 45 percent answered four or more incorrectly. Nearly as many were unaware that:
4. It is not secure to use the same password on more than one site, even if it contains a complex mix of letters, numbers and symbols.
Get discounts on financial services from trusted companies — AARP Member Advantages »
5. If you're in a location with a public Wi-Fi network, you should disable your device's wireless connection — even if you're not accessing the Internet.
6. Wi-Fi networks should not be used to access email, online banking and credit card accounts, or other sensitive data.
Next week, we'll detail 10 ways to stay safe when using public Wi-Fi. In the meantime, take our quiz to find out if you can outsmart a scammer before he strikes, and check out our new Watch Your Wi-Fi page to learn more about the types of scams that occur on public Wi-Fi networks and how to protect yourself.
For information about other scams, sign up for the Fraud Watch Network . You'll receive free email alerts with tips and resources to help you spot and avoid identity theft and fraud, and gain access to a network of experts, law enforcement and people in your community who will keep you up to date on the latest scams in your area.
Also of Interest

See the AARP home page for deals, savings tips, trivia and more.