When the FBI Calls, Hang Up?
In just one month, Linda Blase received 74 phone calls — 57 of them from illegal telemarketers or robocallers.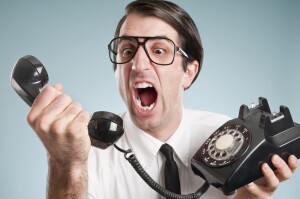 "It's rampant," the Dallas small-business owner told the U.S. Senate Special Committee on Aging this week. "These callers are an unwanted intrusion into my home."
It's been nearly a dozen years since the federal government launched the Do Not Call Registry, allowing consumers to request that telemarketers not call them. But advances in technology since then make it easy for disreputable telemarketers and scammers — often from overseas — to get around the system at little cost. They can make thousands of robocalls by the minute, automatically dialing numbers and bombarding people with recorded messages of fraudulent pitches. They can even spoof a consumer's caller ID so it appears that the caller is from the IRS, the FBI, Social Security or other established sources.
Get the latest tips on protecting your money and saving for retirement — AARP Money newsletter »
In 2009 the Federal Trade Commission (FTC), which runs the Do Not Call Registry, was receiving about 63,000 complaints a month about illegal robocalls. Now the number has reached 150,000 a month.
Many of the consumers likely to fall victim to these callers and their schemes are older Americans, regulators say. Con artists typically try to elicit personal information from people, which can be used to steal their identities or access their bank accounts.
Blase said that in one of the first fraudulent calls she received, her caller ID indicated that it was coming from the FBI and displayed the area code for Washington, D.C. She was told that her name had "popped up" in a drug investigation. Blase told the caller he was a fraud and hung up. But just in case, she contacted her local FBI office.
"The person I spoke to confirmed that it was a scam and told me I had done exactly the right thing when I hung up on the caller," she said.
In a new scheme making the rounds, a con artist tells an older consumer that a friend or relative has purchased a medical-alert bracelet for him or her. The caller then asks the potential victim for personal information in order to complete the purchase and deliver the bracelet.
Committee members said the technology already exists to allow phone companies to block robocalls and other nuisance calls. Yet, the members added, the companies have countered by saying they don't have the legal authority to block the calls. The Federal Communications Commission is expected to clarify the matter soon.
Blase, who is on the Do Not Call Registry, said she tested some call blockers for Consumers Union, which publishes Consumer Reports. Though useful, the blockers can be complicated and have limited ability to stop unwanted calls, she said.
Get discounts on insurance and banking services with your AARP Member Advantages. »
Meanwhile, what's a harassed consumer to do?

If you receive a robocall, hang up. Don't follow instructions to press 1, say, to talk to a live operator, the FTC warns. Pressing a number will only generate more robocalls.
You could pay a fee for your phone provider to block an unwanted telemarketer's number, the FTC says. However, fraudsters change numbers so frequently that it may not be worth it.
Complain to the FTC. You can do so online. Don't expect to hear back from the agency, though. With 150,000 complaints a month, the agency can't respond to all of them. But the agency does use complaints to go after fraudsters. "We mine the data," said Lois Greisman, associate director in the FTC's Division of Marketing Practices. "It is critical for consumers to file complaints with us."
Photo: Spiderstock/istock
Also of Interest

See the AARP home page for deals, savings tips, trivia and more.