Why the Stock Market Plunge Is Not World's End
By Allan Roth, October 15, 2014 02:19 PM
The headlines read "Stocks Plunge" and "Why the Selling Is Just Getting Started." It's enough to get anyone scared and ready to exit the market. Before you do, consider the following: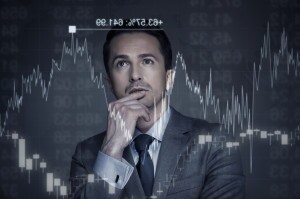 First, have a little perspective. Sure, the benchmark Dow Jones Industrial Average is down about 1,300 points in less than a month, but remember that the Dow isn't the entire U.S. stock market and doesn't reflect dividends. I prefer to look at the entire U.S. market considering a longer perspective, using a total stock index fund with dividends reinvested.

>> 10 Frugal Habits of the Rich and Famous

The chart below shows returns since the market bottomed in 2009. Yes, it's given back a little bit of the amazing gains, but it's nowhere near a "plunge." Rarely have stocks risen so steadily over a five-year period.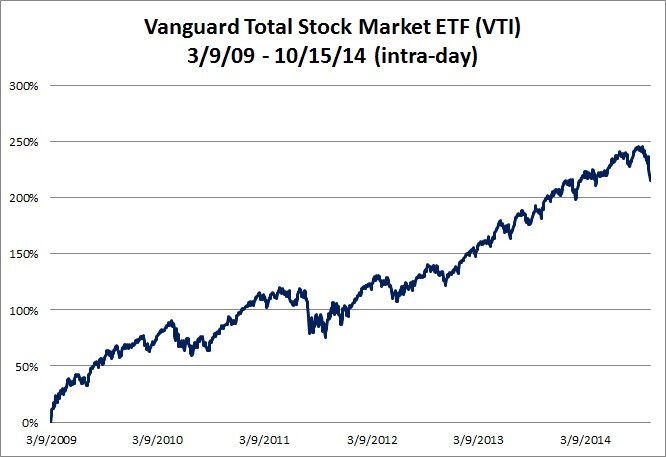 Next, understand that no one knows the short-term direction of the market. Stocks lost about 20 percent in a short period in 2011 and many forecast another market meltdown. It didn't happen.

Finally, understand that we humans are programmed to buy high and sell low. Money poured into stock funds in 2007 and then out of stocks from 2008 to 2012. Only in 2013, after stocks hit an all-time high, did funds start to flow into stocks again. The result of that? According to calculations by Chicago-based Morningstar, the average investor earned 1.66 percent a year less than U.S. stock funds and about 3 percent a year less than international stock funds over the past 10 years.

>> Get discounts on financial services with your AARP Member Advantages.

My advice is to break the cycle of buying high and selling low. Is this the beginning of a plunge or just another blip like 2011? Do you think if I knew, I'd be working for a living and writing columns? The same goes for those writing the sensational column headlines.

Stick to an asset allocation you can live with. Decide what proportion of your portfolio should be in stocks and stick to it, irrespective of the headlines. The implications are simple: You have to buy stocks when they plunge and sell when they surge. Simple? Yes. Easy? No.

Chart: Wealth Logic - data from Yahoo Finance
















Also of Interest

See the AARP home page for deals, savings tips, trivia and more.