Would You Want to Live in a Rock Legend's Childhood Home?
By Patrick Kiger, July 19, 2013 03:23 PM
Would you buy a house that a rock superstar is rumored to have lived in as a child?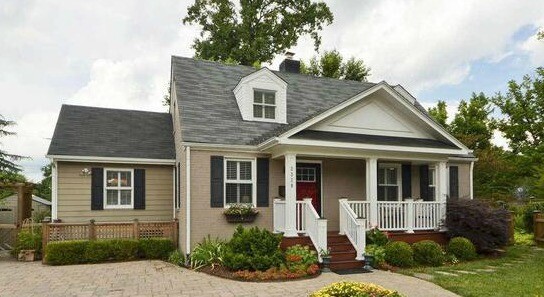 That's a question that prospective home buyers will have a chance to ponder, now that a real estate agent has listed a four-bedroom, three-bath Cape Cod-style home in Arlington, Va., for $949,900. Aside from the covered front porch, hardwood floors and remodeled eat-in kitchen, there's an additional selling point: The listing describes it as the "childhood home" of Jim Morrison, lead singer of The Doors, who spent a portion of his youth in Virginia. The Washington Post, whose real estate section picked the listing as " House of the Week," reports that older residents in the neighborhood and their families recalled seeing a very young Morrison playing in the yard. The future leather-pant-wearing, Medusa-haired provocateur known for anthems such as " Light My Fire" and " Touch Me" apparently lived there with his family while his father, Navy officer George S. Morrison, was stationed in the Washington, D.C., area.

It's not the first time, of course, that a house being offered for sale has been touted as having a historic connection to a music legend. In fact, rock fans also currently have opportunity to buy a $349,000 two-bedroom cottage in Long Branch, N.J., that Bruce Springsteen rented in 1974-75, while he wrote the songs on his iconic LP Born to Run. (It was bought by fans in 2009 for $290,000, according to an online real estate database.) Unlike the purported Morrison home, which has been extensively renovated over the years, Realtor Susan McLaughlin told NJ.com that the Springsteen cottage's layout "is the same inside as it was when Bruce lived there."

Undoubtedly, Bruce's bungalow would be a cool place to practice some air guitar to "Thunder Road." But buying a house once inhabited by a music legend probably has its pluses and minuses. A 2008 article in the Port Arthur (Tex.) News noted that while the woman who lived in Janis Joplin's childhood home didn't mind having fans knock on the door and take pictures outside, she drew the line at their requests to come inside, emphasizing that the house "is hers, now, not Janis Joplin's." And thousands of Bob Dylan fans over the decades have shown up at his boyhood home, whose address is conveniently listed on the website of the Hibbing, Minn., Chamber of Commerce.

Morrison fans, however, might be a little tougher to handle. Since the singer's death in 1971, Doors devotees have flocked to his gravesite at Paris's historic Pére-Lachaise cemetery, covering nearby mausoleums with graffiti and wreaking so much havoc that the cemetery had to hire guards.

Here's a classic clip of Morrison and The Doors performing "Light My Fire" on The Ed Sullivan Show in 1967, when Morrison reportedly drove Sullivan into a rage by refusing to change the phrase "Girl, we couldn't get much higher."




Also of Interest

Join AARP: Savings, resources and news for your well-being


See the AARP home page for deals, savings tips, trivia and more