Messi vs CR7: Quién es más decisivo
By Rolando Lahera , March 31, 2015 05:20 PM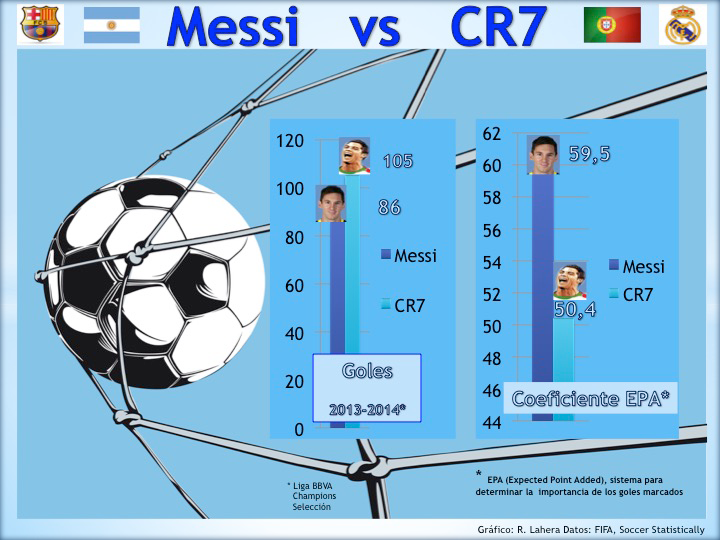 Quién es el mejor futbolista del mundo es difícil de determinar, pues la balanza entre periodistas, exjugadores, entrenadores, directivos y aficionados se mueve sobre la base de subjetivismos y simpatías. Para zanjar uno de estos debates, la revista británica The Economist, basada en su experiencia con estadísticas y apoyándose en un sistema de la empresa Soccer Statistically, echó leña al fuego y publicó que, según el coeficiente EPA para determinar la importancia de los goles anotados, el argentino Lionel Messi supera ampliamente al portugués Cristiano Ronaldo en 2013 y 2014.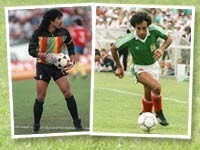 Fotos: Conoce a las leyendas del fútbol mundial
Curiosamente, se trata de los dos años en que CR7 ganó dos de sus tres Balones de Oro. Me pregunto como sería este índice en las temporadas en que Messi conquistó cuatro Balones de Oro consecutivos. Pese a que el ídolo del Real Madrid marcó 105 goles en la liga española, la European Champions League y la selección lusitana, contra solo 86 del astro del Barcelona, los tantos del capitán de la albiceleste han sido marcados en momentos más decisivos.
¿Te gusta lo que estás leyendo? Recibe más información directo a tu email.
Para llegar a este resultado, por ejemplo, se valoró con un coeficiente numérico el gol de cada astro, según el momento en que fueron anotados. Para tratar de entender con más claridad este sistema estadístico, debe explicarse que se concede más importancia a un gol decisivo en el minuto 90 como visitante, que al quinto tanto de una goleada 5-1 como local.
Usando la métrica de EPA, que incluye el minuto en que fueron anotados los goles, la importancia del partido y el contexto del encuentro (para ver qué gol es más importante) se determinó que cada gol de Messi vale 59,5 puntos EPA vs. 50,4 puntos EPA de los anotados por Cristiano Ronaldo.
Esta estadística EPA se basa en un sistema aplicado en el béisbol denominado WPA (Win Probability Added). Tras su creación en el 2001 fue utilizada por el sitio web SoccerStatistically.com para medir la importancia de los tantos anotados en la Liga Premier inglesa entre 2001 y 2013.
Por ejemplo, para clarificar aún más como se aplica este coeficiente: si un partido está igualado en el minuto 90, se considera que el equipo local tiene 11% de posibilidades de ganar, 82% de empatar y 8% de perder. Si estos porcentajes se multiplican por los 3 puntos que se otorgan por triunfo, 1 por empate y 0 por derrota, el EPA es de 1,13.
El análisis en la comparación entre Messi y Ronaldo determinó que el astro de Portugal contribuyó al Real Madrid y al equipo nacional lusitano con un promedio de 0,40 de valor de sus goles y un índice de 50,4 de valor por cada gol anotado. Por su parte, el ídolo rosarino tuvo un promedio de 0,47 y un coeficiente de 59,5 por cada gol, debido a la importancia del momento en que los marcó.
Descuentos en salud y bienestar: Ahorros de hasta un 30% en un estilo de vida más sano.
La polémica sobre quién es mejor seguirá siempre. Sin embargo, leyendas como el brasileño Pelé y el también argentino Diego Maradona coinciden en que Messi coopera más y crea más juego para sus compañeros que CR7. Ahora, The Economist pone el dedo en la llaga al asegurar que los goles de Messi son más importantes.
Y tú, ¿qué opinas?
[polldaddy poll=8766336]
Fotos: Istock