Neymar: el dinero, la Copa América y su futuro
By Rolando Lahera , April 25, 2016 09:36 AM
El futbolista brasileño Neymar, quien siempre acapara titulares –ademas de tener gran repercusión en los medios sociales– volvió esta semana a estar en el ojo del huracán, cuando se anunció que no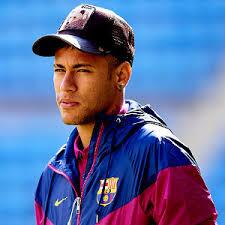 competirá en la Copa América Centenario y que su club el Barcelona estaría pensando en venderlo.
Neymar había dicho que quería jugar en la Copa América que se disputará en Estados Unidos en junio, y también en los Juegos Olímpicos de Río de Janeiro, en agosto, pero el Barcelona se opuso y tras muchos dimes y diretes entre el club catalán, la compañía Nike que lo patrocina y la Confederación Brasileña de Fútbol, se determinó que sólo participará en la Olimpiada.
Fotos: Conoce a las leyendas del fútbol mundial
El astro brasileño ha generado muchas controversias, sobre todo por su polémico fichaje por el Barcelona, debido a que el costo final de su contratación fue mucho mayor de lo que se dijo en un principio. Además hubo toda una serie de acápites en su contratación con los cuales el club brasileño Santos, que poseía la ficha del jugador, se sintió perjudicado, aparte de una reclamación del Ministerio de Hacienda brasileño por eludir el pago de algunos impuestos y del Ministerio de Justicia de España por falsedad contractual.
El diario británico The Sun publicó esta semana algo que ya se rumoraba mucho: que Barcelona estaría considerando vender a Neymar por motivos económicos. The Sun asegura que la extensión y mejora de contrato que tendría que abordar el club catalán para retener al brasileño es en estos momentos irrealizable, pese a la buena voluntad de ambas partes para llegar a un acuerdo
Suscríbete al nuestro boletín informativo para que estés al tanto de los temas que te interesan
The Sun asegura que la ausencia de un patrocinador para la próxima temporada lastra severamente las posibilidades económicas del club, que no tendría más remedio que dar salida al jugador para mantener la estabilidad en sus cuentas. El sueldo de Neymar en la actualidad asciende a $10.2 millones brutos al año, aunque por otros conceptos ya se embolsó $50 millones y pide al menos otros $50 millones para firmar un nuevo contrato.
Otro diario británico, The Mirror, insiste en el interés del Manchester United en hacerse con sus servicios. El padre de Neymar ya anunció que el Barcelona había rechazado una mega oferta por el delantero, pero los diablos rojos estarían dispuestos a intentarlo de nuevo y serían capaces de pagar más de $200 millones por el brasileño.
El sueldo de Neymar ha generado muchos debates e incluso un mal ambiente entre muchos jugadores del Barcelona. Por ejemplo, el capitán Andrés Iniesta, que ha logrado muchos más títulos que Neymar y fue el que marcó el gol ganador para España en el Mundial de 2010, cobra casi €5 millones menos que el brasileño. Solamente el argentino Lionel Messi supera a Neymar.
Para ponerlo en perspectiva: a sus 24 años, Neymar cobra $20 por minuto, $1,250 por hora y más de $25,000 diarios, una cantidad que no cobraron a la misma edad ni Messi ni el portugués Cristiano Ronaldo.
Descuentos en salud y bienestar: Ahorros de hasta un 30%
Aparte de todo, su inestable rendimiento en el Barcelona tiene bastante disgutados a los aficionados culés que piensan que sería un buen negocio para el club catalán venderlo y mejorar su estado financiero, al tiempo que se contrate a otros jugadores menos caros y de buen desempeño.
¿Y tú que opinas?
También te puede interesar: