2012 Olympics: Silver Foxes Among the Gold Seekers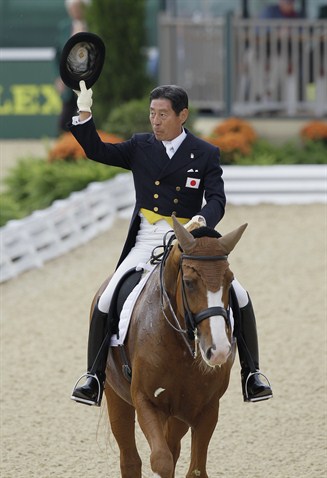 The first few days of the NBC's Olympics coverage have brought the network record-breaking ratings - and a brand-new dimension of angry complaints, thanks to social media! Have you seen the venting on #NBCFailon Twitter? Bob Costas & Co. haven't met our high expectations and the network looks to have put viewability of the Games far behind commercials and promos in importance. What do you think of the coverage so far?

As we continue with the best in TV this week being the 2012 London Olympics, it's worth taking a look at some of the silver foxes among the gold seekers. Of course the Olympics belong to amazing young athletes at peak physical form, but make no mistake: for millions of viewers, the Games of the XXX Olympiad are being enhanced by an awesome collection of athletes and broadcasters in their 50+ years -- personalities who embody the philosophy of living your best life at any age.

Along with 60-year-old Bob Costas, NBC's star power includes Tom Brokaw, 72, Meredith Vieira, 58, Matt Lauer, 54, and Al Michaels, 67. Pat O'Brien, 64, is at Bravo. Fred Roggin, 55, is at CNBC. Popular tennis player-turned broadcaster Mary Carillo, 55, hosts MSNBC's late night coverage.

John McEnroe, 53, will make his Olympic broadcasting debut in London, serving up commentary when tennis gets underway. Three-time Gold Medal-winning swimmer Rowdy Gaines, also 53, is providing on-air insights for the swimming events. We remember the times legendary coach Bela Karolyi, 69, was the story in past Olympics; he'll be commenting on London's gymnastics stories as they unfold, as he did in Beijing. At 61, Cynthia Potter, who won 28 national diving championships in the 1970s, will be back making those picky yet oh-so-knowledgeable remarks of hers that viewers love to hate.

Not all the 50+ personalities of these games will be at the microphone, either. The equestrian competitions feature riders including Team U.S.A.'s most senior member, Karen O'Connor, who is 54. And Australia's Mary Hanna, 57. And Ian Miller, a.k.a. Captain Canada, the show jumping world champion, competing at 65 years of age. And Japan's Hiroshi Hoketsu (above), whose first Olympic Games were those held in Tokyo in 1964, when he was 23. He is now 71.

Commentating on the equestrian events: award-winning veteran sportscaster Tim Ryan, who is 73.

Many 50+ Olympians have distinguished themselves through the ages at the Games. Here are a few of our favorites. Who did we miss?