'American Idol' Finale Must-See Viewing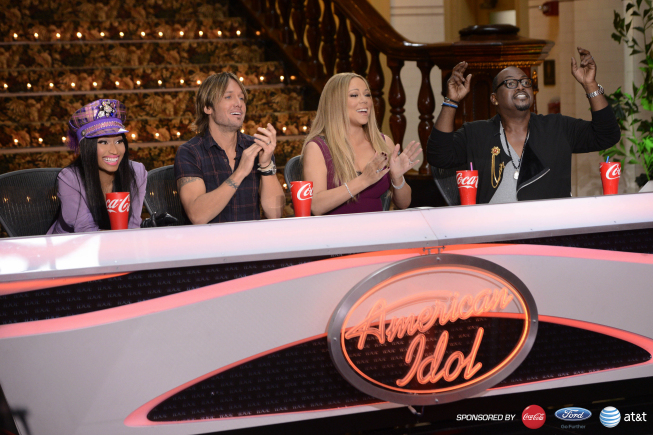 Yes, I did compare Randy Jackson's yo-yo-yo dawg-dawg-dawg repetitiveness to Barney the Dinosaur a few weeks ago in terms of things I simply cannot bear to watch anymore. But now he's leaving " American Idol" and I feel kind of bad. It's the end of an era - and all the more reason that this week's season finale Wednesday and Thursday is must-see territory.

The worst is behind us - not only Randy's tired catch phrases, but also Nicki Minaj's endless self-important posturing and Mariah Carey's and Keith Urban's blandness. Now we are at the good part: The "Idol" finale's array of guest performers ranging from Adam Lambert to Frankie Valli, Jennifer Lopez, Alicia Keys, maybe Jennifer Hudson -- plus Mariah, poised to remind us of what she does best with a medley of her hits! Let us hope it is much better than the awful "#Beautiful" video she unveiled on this past Thursday night's show. She looked like she was trying too hard with all the grinding atop a motorcycle, etc.

The fact that Jackson's departure news comes on the heels of word that he is also no longer going to serve as Mariah's manager, and reports that Fox was poised to give all the judges their walking papers, hints that the behind-the-scenes angst in this season of sharp ratings decline is even worse than we thought. I never thought I'd feel sorry for Mariah, but the glitzy pop queen came into the show expecting to follow the success pattern of Jennifer Lopez and has ended up the loser in a war of words with brash rapper Nicki, whose Twitter feed has been rife with insults, calling Mariah bitter and insecure, among other things.

On the bright side, the season wound up with exceptional contestants. The final three - Candice Glover, Kree Harrison and Angie Miller -- already look like stars. It will be nice to see Angie back performing this week after her unexpected ouster. Who'll score the win? Candice has the voice, as anyone who heard how she sent "Somewhere" rocketing into the stratosphere last week can attest. Nashville songstress Kree has the back story, persisting in chasing her dream despite having lost her father in a plane crash and mother in an auto accident at a young age.

As for "Idol's" future? If the show lucks into the right judges it could be refreshed anew, as it was with Steven Tyler and Jennifer Lopez. The post-Season 12 scramble to put "Idol" back together again is bound to be quite a show in itself.