Get a Front-Row Seat to Country Music's Biggest Event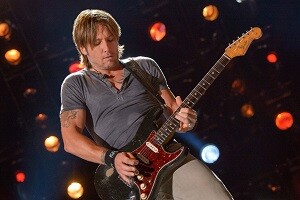 Things have changed a lot since the old Fan Fair days, when Loretta Lynn got so caught up in the excitement of chumming with her admirers, she famously walked in front of the TV cameras with pink curlers in her hair. About 30 years ago, the crème de la crème of country music sat in numbered booths arrayed around the Tennessee State Fairgrounds, pressing flesh and signing autographs while some 17,000 of their faithful followers scurried from star to star. Now the affair is known as the CMA Music Festival, and it is a one-of-a-kind colossus. This past June, there were a record 80,000 fans attending each of the four days of activities and shows. Autograph signings have their own building, the new Fan Fair X, and live music is presented on 11 stages.
ABC airs its CMA Music Festival: Country's Night to Rock special tomorrow night (August 12) from 8 to 11 p.m., a hot summer opportunity to pop a cold one and enjoy a front row view of the fun without having to worry about rain. Top country quartet Little Big Town hosts, with artists ranging from Brad Paisley, Blake Shelton, Miranda Lambert and Taylor Swift, to old schoolers Lee Greenwood, Pam Tillis and Randy Travis (who performed at the fest, but cancelled his autograph appearance this year, experiencing the exhaustion that led to his hospitalization for heart failure and subsequent stroke). Kellie Pickler gives a Music Festival tour for the boys from Duck Dynasty that becomes much more colorful than planned. Little Big Town interviews Lady Antebellum and other bands, and gets to play with Sheryl Crow as well as their touring partner of this summer, Keith Urban.
"We didn't know what was going to happen," admitted Little Big Town's Karen Fairchild, speaking of their performance with Urban while promoting the special. "We were creating it there, in the moment, and that was what was so exhilarating."
Also exhilarating, pointed out her band mate, Phillip Sweet, is the fact that the festival is now international, drawing fans from countries all over the world, as well as cross-cultural, with non-country musicians such as Lenny Kravitz who "want to come in and collaborate." (Kravitz was not a hit with country fans, though.)