A 'Hot in Cleveland' Preview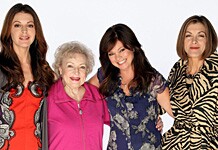 Fear not, Hot in Cleveland viewers who flinched at the idea of the saucy sitcom having a baby on board. That foundling on the doorstep, so prominent in the promos for the fourth season of the TV Land hit, is not a shark about to be jumped. He's Jane Leeves' character's grandson, but - not to give too much away - he's not going to be around enough to clutter up the show. In fact, Season 4 of the Betty White-Jane Leeves-Wendie Malick- Valerie Bertinelli series is off to a smart start with its fun premiere episode tomorrow night (11/28).
This season, creator Suzanne Martin ( Frasier, Ellen) and team have "really tried to shake it up. They've sent us all off on new courses in our lives, so we all have fresh things to attack," Leeves told AARP.org. "My character is going back to school. Valerie's character gets a job with a PR company and Heather Locklear is her boss. Wendie's character gets to star in a Woody Allen movie - Woody is filming his movie in Cleveland, which is sort of funny in itself. So we're all off on these journeys. And Betty's character - her boyfriend Pierre, played by the wonderful Regis Philbin, comes back."
Expect to see more of Betty's former Mary Tyler Moore Show colleague Georgia Engel this season as well. "She's doing quite a few episodes because she is just so funny," said Leeves.
Also ahead: a live episode next summer. "They just came to us like a week or two ago with the idea and we all jumped on it," Leeves said. "There's nothing like doing something live. It's scary and exhilarating, and things can go wrong and do go wrong, but I think it's really exciting."
The best part of Hot in Cleveland, of course, is its cast. It's just plain fun to watch these pros as they work together. "Between the four of us, we figured out we have about 253 years of television experience," Leeves let us know. The cast would all like to see the show go on for a few more years, she said.
What about Betty? "Betty is absolutely extraordinary. She's about to turn 91, you know. She's inspirational, she's my hero. She's got such a positive energy, such a happy energy. I think that's part of her secret. She's just enjoying life so much, and I think that keeps you young and excited."
Photo Credit: tvguide.com