AARP Cheat Sheet: ORLANDO, Thursday, September 30
By Beth Carpenter , September 30, 2010 10:30 AM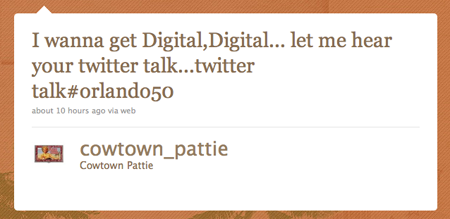 That's our mantra today. We're in information overload mode - our live Twitter feed is hopping with lots of quotes, pictures, and enough live-tweeting to make you feel like you're there.
A few items of business...
As AARP guest blogger Mr. GoTo said, "You can't retire on an empty stomach." AARP and the AARP Foundation officially launched an anti-hunger initiative this morning. We'll have more on this, but for now, here's what you need to know - you can text 'hunger' to 50555 now to donate $10 toward our efforts to stop elder hunger.
Ways to make retirement work with limited income... CNNMoney's got three profiles. Some detailed advice here.
You can tweet your way to an iPad. Oh, and if you're in Orlando, there's a booth giving away three of those bad boys a day. Look for the AARP Media booth... tell 'em I sent you.
While we're at it, if you're anywhere close to Orlando and were thinking of joining us, you don't even need to pay admission today if you bring us some food. (No, not me. Although I hear y'all have good Cuban sandwiches?)
That's all. More, much more, coming up today. Keep us bookmarked.