Alison Sweeney: Viewers Will Fall for 'Biggest Loser' Again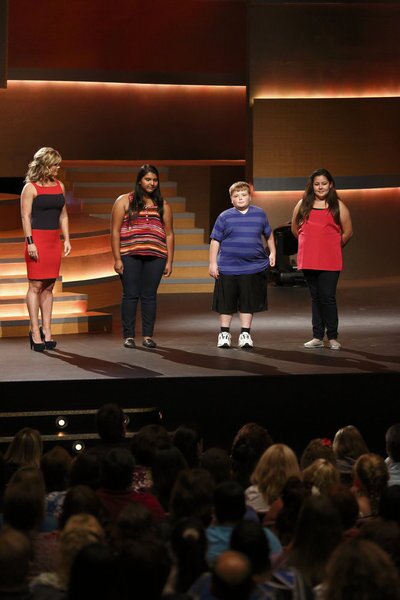 " The Biggest Loser" commences its 14 th season tonight and tomorrow night (Jan. 6 and 7), with a dash of drama behind the scenes -- as in, will "BL" be able to regain its former luster? By now, you've likely at least sampled the time-honored reality skein. Perhaps you've followed the course of some valiant contestants - quite a few of whom have been 50+, as the show's philosophy is that age is just a number when it comes to getting fit.

Or maybe you're a true fan, and were among those watching in disbelief last Spring as one of the show's most disagreeable casts ever staged a revolt over eliminated players being given another chance. Bags were packed. Host Alison Sweeney (l. with this year's young Losers) and an attorney explained the contracts they had signed to whining contestants. Two quit.

Then the show got a fall respite, and even though network chief Robert Greenblatt told press that the producers were taking time to revise and refresh it, some wondered if "BL" was done.

Sweeney sighed at mention of the lows. "You know, you can't hit it out of the park every single time. Some seasons are going to be better than others," she told AARP.org. "With reality TV, sometimes it's amazing chemistry and you get these gems that turn out to be everything you hoped, and the camera loves them and they just blossom on the show. And then sometimes it's not all you envision. What I can tell you about this season is, this is up there with the best we've ever done."

At least the beginning looks promising. ( But please, producers, quit it with the shots of people vomiting! No! ) This season certainly has its points of interest: Popular trainer Jillian Michaels is back after a two-year absence. Three young teens are taking their own weight loss journeys as part of the program, but not the competition, tackling childhood obesity. And "BL" has its first openly gay contestant, 21-year-old Jackson Carter of Utah.

"He's one of the best people we've ever had on the show," Sweeney declared. "From the beginning this season, I felt we had a group who were going to be magic. I think people will fall in love with these contestants. I think they'll fall in love with the show again, because it's that good."

We'll see.