Allison Janney Finds Satisfaction in 'Masters of Sex'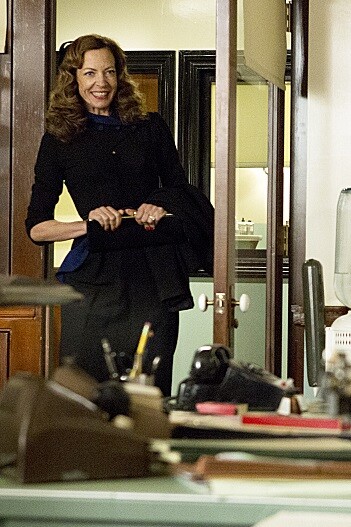 If you have any qualms about watching nudity, masturbation and copulation, Showtime's Masters of Sex, premiering tonight (9/29), is not for you. The miniseries about pioneering sex researchers William Masters and Virginia Johnson shows us wired-up subjects giving their all for science, stroke by stroke, surging past taboos like Masters and Johnson did, climaxing in a heady new experience. Even for Showtime, it's breathtaking stuff -- yet Allison Janney is convinced, "The public is going to embrace this, they're going to love it. It's going to be a huge show, just huge."
Four-time Emmy winner Janney is part of a cast led by Michael Sheen ( The Queen) and Lizzy Caplan ( Mean Girls), who are both excellent, as Masters and Johnson. Beau Bridges plays Washington University Provost Barton Scully, a mentor of star obstetrics and gynecology faculty member Masters, who, as the series begins in 1956, is scared to death of Masters' probing of human sexuality. And why wouldn't he be? Watching women writhing around pleasuring themselves was a tough sell as laboratory research back then, to say the least.
Bridges and Janney play husband and wife, "and our storyline - oh!" enthuses the former The West Wing star. "It was so incredibly exciting to play this really difficult situation my character is in. It's really well-written, and the period, the costumes and hair - it was just extraordinary."
The series was developed and produced by Michelle Ashford, based on the book Masters of Sex: The Life and Times of William Masters and Virginia Johnson, the Couple Who Taught America How to Love, by Thomas Maier.
"It's so sad that Virginia Johnson died before she could see a show that was inspired by her life's work," says Janney of the woman who began as Masters' assistant and, despite her lack of education and status as a divorced mother, wound up as his full research partner and, for two decades, his wife. Johnson died in July at age 88.
Janney, who keeps turning in exemplary performances no matter what form of production she is in, is hoping that if Masters of Sex goes to a second season, she'll be doing both the Showtime series and her new Mom sitcom with Anna Faris. The show, from comedy mogul Chuck Lorre, has Faris as a recovering alcoholic and single mother revisiting the troubled relationship she has with her own recovering addict mother, Janney. With surprising moments of realism, it's won plaudits for both actresses. "I love how my character just wants to be back in her daughter's life and her granddaughter's life. I think she is lonely. I think she is struggling with her own sobriety and wants very much to make amends, even though she is not quite willing to admit all the things she did wrong," Janney says.
Her character is also "definitely playing the field and doing the cougar thing a little bit, which is fun. I'm going to have fun playing this lady."