An Elvis Clone (or Two) Get All Shook Up
By Bill Newcott , September 04, 2014 04:44 PM
After a busy summer, Hollywood takes a breather this weekend by releasing just a few small-scale indie flicks. So this could be the best chance you'll have all fall to catch the movies you missed while at the beach. (Or simply stay home and rediscover a classic monster on Blu-ray disc from the safety of your couch!)
Frontera
Ed Harris stars as an Arizona rancher whose wife was supposedly murdered by a Mexican man ( Michael Peña) making an illegal border crossing. Despite mounting evidence to the contrary, the cops insist the immigrant is the perp. This leads our widower to wonder: Who really did it? And why is the truth being hidden?
The Identical
What if Elvis Presley's identical twin brother hadn't died at birth, but instead had been given away to another couple? The characters in The Identical are all fictionalized, but that's the intriguing premise at the heart of this music-filled story of two brothers — one a rock 'n' roll superstar, the other raised by adoptive parents to be a preacher. Blake Rayne plays both siblings, while Ray Liotta and Ashley Judd are the pastor and his wife who watch their son being drawn inexorably toward the destiny his famous brother has already achieved.
Memphis
Writer-director Tim Sutton has created a dreamy odyssey through the tree-shaded, grit-encrusted streets of Memphis. Here he tells the story of an idealistic young musician searching for a way to fufill his creative longings in a world of harsh economic necessities.
>> Celebrity Couples Still Crazy for Each Other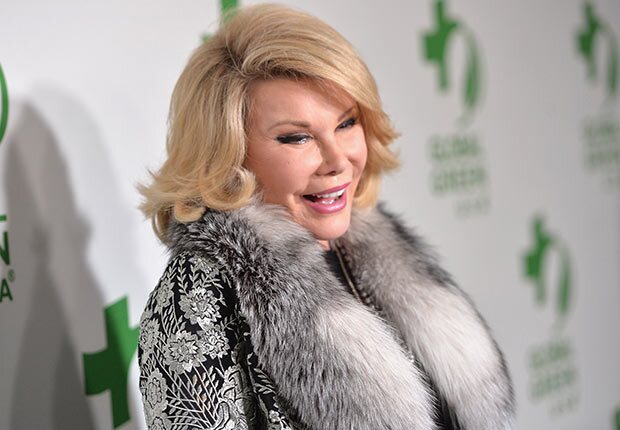 VIDEO: Our dear departed Joan Rivers talks about fistfights on the Oscars Red Carpet...and about the award-winning documentary about a year in her life on the Movies for Grownups Radio Show.
Still Out There...
Boyhood
In 2002, writer-director Richard Linklater wrote a script about a young boy's life from age 6 to his late teens. He filmed it over the ensuing 12 years, letting his actors literally grow into their parts. Sure, the nearly three-hour Boyhood could stand some trimming, but it's easy to understand Linklater's reluctance to leave anything on the cutting-room floor. His gamble on casting Ellar Coltrane as the boy is inspired; as his parents, Patricia Arquette and Ethan Hawke show it's not just children who evolve over a decade or so. In fact, Boyhood is most compelling when it explores the complex dynamics between growing children and their oft-confounded parents. FULL REVIEW
>> Sign up for the AARP Leisure Newsletter
Cantinflas
There's no more beloved figure in the history of Latin American cinema than the Mexican comedian Cantinflas — known to U.S. audiences, if he is at all, as David Niven's sidekick in Around the World in 80 Days. Action star Oscar Jaenada Gajo ( Pirates of the Caribbean) gives a funny, touching, physically nimble performance in this life story of the man dubbed "the world's greatest comedian" by Charlie Chaplin.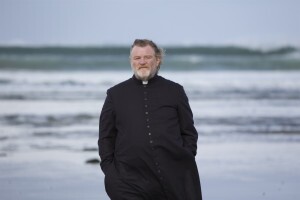 Calvary
Once you recover from one of the most startling opening lines in movie memory, relish Brendan Gleeson (In Bruges) in one of the towering performances of the year. He plays an Irish village priest who takes the confession of a man who calmly declares, "I'm going to kill you, Father." The deed is to be done a week from Sunday: "Killing a priest on a Sunday," muses the shadowy figure. "That'll be a good one." Gleeson is mesmerizing, and writer-director John Michael McDonagh (The Guard) is relentless in his study of a good man in an increasingly dark world.
VIDEO: Star Brendan Gleeson is already getting Oscar buzz for his role in Calvary. He talks with us about playing a priest trying to solve his own pending murder.
>> Get entertainment and dining discounts with your AARP Member Advantages.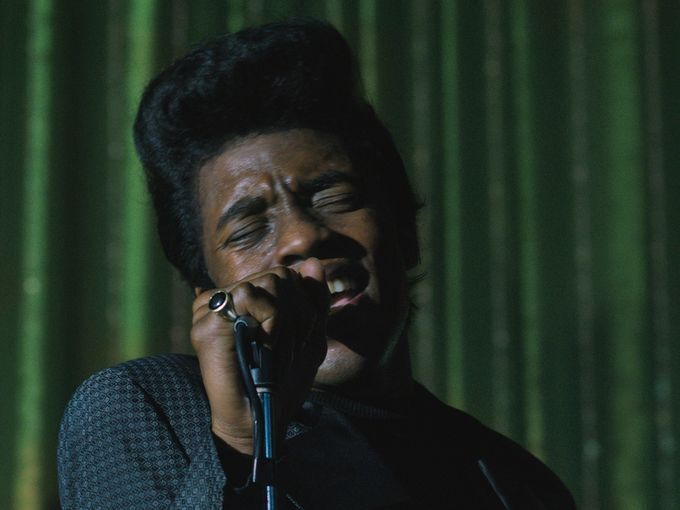 Get on Up
Chadwick Boseman ( Jackie Robinson in 42) makes playing The Hardest-Working Man in Show Business seem easy in this spectacular, funk-driven biography of James Brown. The soundtrack is the genuine Brown, but Boseman nails his Mashed Potato dance steps and inseam-defying splits. At first you may think director Tate Taylor (The Help) is showing you random moments from Brown's tumultuous life, but you'll quickly see the method to his montage.
The Giver
Stern elder Meryl Streep runs a future where older folks and undersized babies get "released" to "Elsewhere." (That will sound warm and fuzzy only to viewers ignorant of Logan's Run and Soylent Green.) Also, the world's painful history has been erased and everyone lives in harmony, thanks to a potent combo of social engineering and daily drug injections. Only the Giver, played by Jeff Bridges, carries memories of the past, and his job is to use those memories to help steer the society's leaders to wise decisions. But the Giver is getting old, and he must pass his collected knowledge to a youngster (Brenton Thwaites) who quickly realizes it's an unworkable system.
The Hundred-Foot Journey
Helen Mirren is a snooty French chef; veteran Indian star Om Puri (East Is East) is the immigrant who opens an authentic Mumbai-style restaurant, replete with secret spices and blaring santoor music, across from her chic, white-tablecloth place in the South of France. The resulting culture clash fuels this foodie romance from Lasse Hallström, who also directed Chocolat. The dishes look delicious and the stars are endearing, but the predictable script could have used more seasoning.
Land Ho!
Equal parts comedy, adventure and coming-of-age drama (for the 70-plus set), this is the year's most engaging buddy picture. Paul Eenhoorn (This Is Martin Bonner) and 72-year-old Earl Lynn Nelson (in his first major film role) play a couple of guys who head to Iceland for one final hurrah. The two actors reportedly improvised roughly half the dialogue, and their spontaneity fuels a film in which surprisingly little happens. Which is just fine: For the most part we happily join the pair's idyll, marveling alongside them at Icelandic geysers and misty hot springs. The landscape they traverse is barren and beautiful; the emotional chasms they bridge are honest and universal. FULL REVIEW
Life of  Crime
Hapless crooks Yaslin Bey and John Hawkes kidnap the wife (Jennifer Aniston) of a rich guy (Tim Robbins), but get saddled with their hostage when Hubby decides he'd rather not pay up. This field was memorably (and more capably) plowed by Bette Midler and Danny DeVito in Ruthless People (1986), and before that by O. Henry in The Ransom of Red Chief. Not sure why we're here again, other than the fact that the script began life as the Elmore Leonard novel The Switch.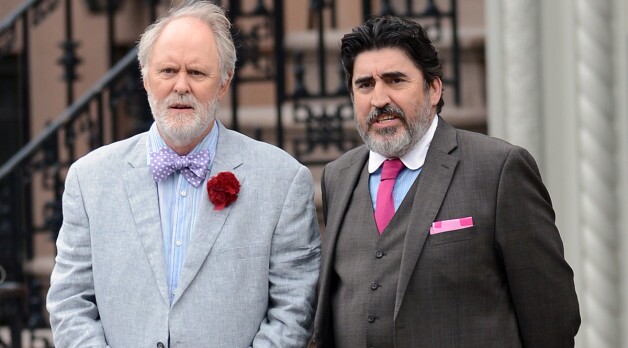 Love Is Strange
Two of the screen's finest actors, John Lithgow and Alfred Molina, bring warmth and humor to a modern yet timeless love story. They play a couple who've lived together for decades, only to see their comfortable Manhattan lifestyle come crashing down when they get married. Director/co-writer Ira Sachs lavishes uncommon dignity and consistent good humor on the guys, their families and even those who stand in the way of their ultimate happiness. A film like this requires a delicate balance; happily, everyone involved succeeds like a Wallenda — and makes the acrobatics look easy. FULL REVIEW
Magic in the Moonlight
Woody Allen's win streak comes to a calamitous halt with this period-piece trifle, set in 1920s South of France. Colin Firth is a world-famous debunker of supernatural claims, Emma Stone the high-society conjurer he intends to take down a peg or two. The plot is promising. The photography, by Iranian genius Darius Khondji, is nothing short of splendid. But the undernourished creature Woody & Co. pull out of this particular hat will please nobunny.
The November Man
Pierce Brosnan must be missing his 007 days; he stars as a former CIA agent pressed back into service to protect a witness (Olga Kurylenko) being targeted by his former employer. With Brosnan flaunting his action-role chops, let's hope this meaty role turns into a recurring gig for him. Based on Bill Granger's bestselling "November Man" spy novels.
Sin City: A Dame to Kill For
We went to writer-director Robert Rodriguez's hyperviolent comic-book flick because we heard Mickey Rourke, Bruce Willis, Dennis Haysbert and Powers Boothe star in it. We left the theater checking the bottoms of our shoes for human entrails.
The Trip to Italy
If you missed Steve Coogan and Rob Brydon's brilliantly hilarious, largely improvised tour of British restaurants in The Trip, take a moment now to view that 2010 film. Once you have, a team of runaway Ferraris won't be able to keep you from joining the pair on their newest gastronomical adventure, which takes them across Italy. The scenery is breathtaking. The food looks so good you can taste it. And the stars keep up a stream-of-consciousness narrative that will have you a) laughing so much you'll snort Chianti out your nose, and b) wishing you could hang out with these two forever.
When the Game Stands Tall
Football season already? As high-school kids across the United States prepare for the glare of this fall's Friday night lights, Jim Caviezel stars as Coach Bob Ladouceur, who led the De La Salle High School Spartans (of Concord, California) from obscurity to a 151-game winning streak.
New on DVD, Blu-Ray and Video On Demand:
The Bride of Frankenstein (1935)
The greatest Universal Studios monster film — heck, probably the greatest of all time — gets first-class Blu-ray treatment, all the better to appreciate director James Whale's spectacular vision featuring one iconic image after another. Boris Karloff, beneath a ton of makeup, proves himself at the highest rank of screen actors. If you don't weep for the heartbroken creature when he's rejected by Elsa Lanchester's hissing, fright-wigged Bride, there's more than one monster in the room.
Moms' Night Out
Patricia Heaton stars in a family comedy about three friends (Heaton, Sarah Drew and Logan White) who want nothing more than a night away from the kids. Just one hitch: That means leaving their husbands in charge. Trace Adkins costars as a good-hearted biker.
>> Visit (And Like!) the Movies for Grownups Facebook Page
Photo: Alberto E. Rodriguez/Getty Images
Also of Interest

See the AARP home page for deals, savings tips, trivia and more