Andy Kaufman: Still Funny, Still Dead
By Steve Mencher, November 15, 2013 05:07 PM
Reports this week that the long-departed comedian Andy Kaufman is still alive have been debunked. For fans of Kaufman, who had often joked about faking his own death, the news was inevitable, but disappointing. Here's what happened this week: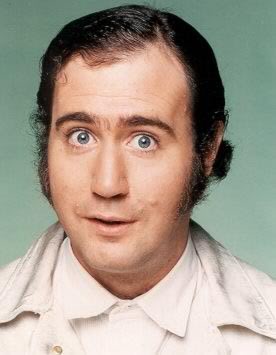 On Monday, according to reports, the comedian's brother, Michael, appeared at a comedy club in New York and, while introducing a woman he claimed was his brother's daughter, read a letter purportedly from Andy. Thursday, the website Smoking Gun reported that the "daughter" was, in fact, an actress, the daughter of a Manhattan doctor. Hours later, Michael told CNN: "Now that it's Thursday, not Monday anymore, I believe I am part of a hoax."

Michael's wording ("I am part of a hoax") may be significant, because the Web report implies that he was one of those trying to perpetrate the short-lived fakery. For the record, he did insist to CNN that he was the victim of the hoax.

>> Sign up for the AARP Leisure Newsletter

To relieve any uncertainty, the Los Angeles County coroner re-released Kaufman's death certificate, adding " Andy Kaufman is dead." His manager, who watched him die, also weighed in.

With the story winding down, let's take a moment to remember the comedian, who died of cancer in 1984 at the age of 35.

Your favorite Kaufman moments might be from his turn as the eccentric, vaguely Eastern European mechanic Latka Gravas on Taxi. Or you might prefer his lip syncing Mighty Mouse - arm raised, knees beating time - on Saturday Night Live. Maybe you remember his crazy wrestling career: He infuriated women by playing the part of a male chauvinist who always overwhelmed and pinned a female opponent, and he tangled with a real wrestler, Jerry Lawler, in routines that seemed to put his life at risk.

But there's no denying that Kaufman's signal gift was his ability to inhabit a character with total conviction. You can search the Web for great, hysterical, over-the-top Kaufman impersonations. What I'd like to share is this simple portrayal of the comedian as a sick and broken shadow of himself, reduced to panhandling the audience on a 1980 David Letterman show. You may find this mystifying, as Dave does. I find it hysterical.




Image: WikiMedia Commons

>> Get entertainment and dining discounts with your AARP Member Advantages.



Also of Interest



See the AARP home page for deals, savings tips, trivia and more