At Last: The Vibrator Movie You Can Take Your Mother To!
By Bill Newcott, May 17, 2012 04:02 PM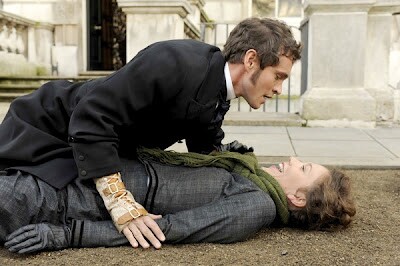 All right, maybe there's not been an actual clamor for a Vibrator Movie You Can Take Your Mother To, but director Tanya Wexler has made it in her new film Hysteria, and as a mother of four, she told me, "It's a movie I'd like to see!

"Who wouldn't want to see a romantic comedy about the invention of the vibrator in Victorian England?"

Hysteria draws its based-on-fact plot from a peculiar medical heresy of the Victorian era: That women who were anxious-or depressed, or angry, or argumentative, or simply troublesome-most likely suffered from an ailment known as "hysteria." As the Latin first syllable of the word implies, hysteria's cause was thought to be irregularities in a woman's reproductive organs. At worst, doctors of the era performed primitive hysterectomies on such women...at best, mild symptoms were thought to be treatable through...well, how shall I put this...manipulation of a woman's, umm, parts, to achieve what doctors of the time called paroxysm. These days it's called the Big "O."




There, thank goodness we're past the embarrassing part. Well, not quiet yet. In the telling of Hysteria, that manual stimulation process proved so physically grueling for physicians they suffered something akin to carpal tunnel syndrome. So it fell to a doctor named Mortimer Granville (Hugh Dancy) to invent a vibrating electronic device that did the heavy lifting to such remarkable effect that, even today, its technological descendants are sold by the millions every year. I think at Walgreen's they call them "personal masagers."

Whew. Okay. At its heart, though, Hysteria is a very human romantic comedy about people coping in very different ways with life in a tightly wound society. Granville falls crazy in love with a liberated social worker (Maggie Gyllenhaal) who grows fond of the good doctor and his desire to help women-but who is appalled by the social structures that define British sopciety. Then there's her father (a properly perfect Jonathan Pryce) who hires Granville to help in his unique women's medical practice ("Not enough hands!" he complains).

"The best comedy," says Wexler, "touches on the kinds of topics that make people nervous; those soft spots-be it pride, or falling down, or sex, or whatever."

The first group of people to get nervous about Wexler's plans to film Hysteria was possible investors. Wexler spent six years trying to come up with financing for the movie.




Then the Motion Picture Association of America's ratings board got more than a little edgy. In a season when The Hunger Games, a movie about children savagely killing each other, was rated PG-13, Hysteria was assigned an R rating.

"That was surprising to me," Wexler says. "It has no bad language, we have no body parts. The women wear hats, for crying out loud. But that's okay. I don't expect 14- and 15-year-olds want to see my movie, anyway."

While she admits there's a subtext of female empowerment to the film, Wexler insists "it's supposed to be lighthearted; a fun movie for a date night or girls' night out.

"I do find that people do try to put a lot onto the film. They want it to solve all the problems of gender inequality for the ages and it's just not gonna do that. The characters are trying to do that, but the film itself is just trying to be an enjoyable fun night out. Maybe afterward you go out and have a glass of wine or cup of coffee with your friends and have a good conversation, too.

"It's a conversation starter. Not a conversation ender."