Blake Shelton, Michael Buble Holiday to the Max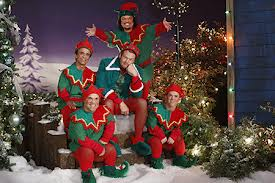 Rakish Blake Shelton and breezy Michael Buble will be doing their Christmas thing to the max on NBC this week and next with back-to-back specials and "The Voice" performances - a veritable winter wonderland of cross promotion they hope will bring holiday cheer to fans and, of course, sell lots of records, too.

Shelton has his "Not So Family Christmas" special coming up Monday night (12/3), which does feature some of the country star's family despite the name - his mother, Dorothy Shackleford, and his superstar wife, Miranda Lambert, in addition to his fellow "The Voice" judge Christina Aguilera, Kelly Clarkson, Larry the Cable Guy, Jay Leno and Reba McEntire. It's full of comedy bits, and Miranda says she's glad the public is getting to see Blake's sense of humor. (Anyone who has seen his notorious Twitter feed has a pretty good idea of his humor already.)

"To be able to do it the way we wanted to -- which is to have fun with it, goof around, and make people laugh, but still do the best we can as far as making some great music along the way -- NBC allowed us to do that and this has been a blast," said Blake. He also wanted to show that country stars "can be edgy, too."

He'll be back on the 10 th as one of the guests on Buble's "Home for the Holidays" special along with Rod Stewart, Carly Rae Jepsen and Elmo (talk about edgy). Via video magic the special will also include the ultimate Christmas crooner duet - Buble and Bing Crosby.

Tune in earlier on the 10th, and you will see Buble and Shelton each perform on "The Voice" as well. Bublé will team with artists for his new song "Christmas, Baby Please Come Home." Shelton will be joined by his team for a rendition of "White Christmas."

Shelton's and Buble's paths have converged a surprising number of times, considering they are from such different musical worlds. Shelton had a country hit with a Buble's "Home" ( a new Christmas duet  version of which is available), then they worked together on a David Foster special, and a Shelton Christmas album. "We've become friends - as close friends as you can be when he lives in Vancouver, and I live in Oklahoma," Shelton told us. When it came time to adding a new mentor for "The Voice" this season, "I thought, 'This is a no-brainer.'"

And now, here they are with his 'n' his holiday specials they hope will give all a good night.