Bob Newhart Is a Hit on 'Big Bang Theory'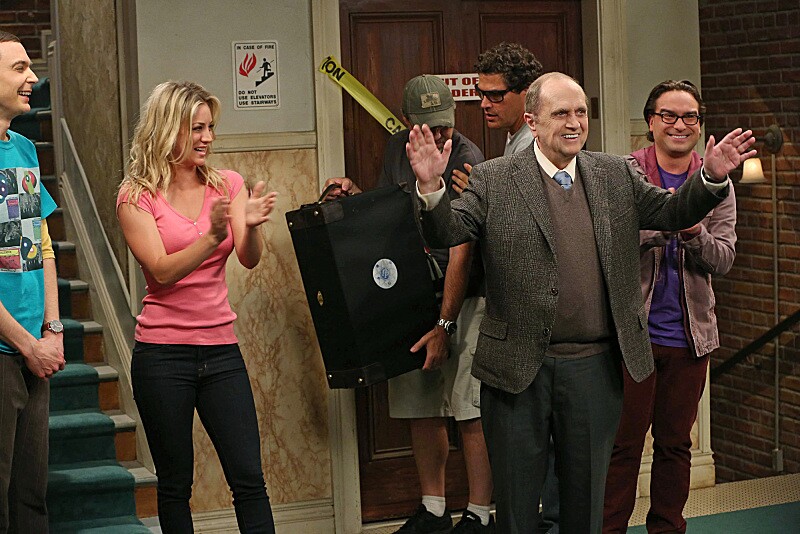 Bob Newhart's fans have been waiting for this one - his first appearance on The Big Bang Theory Thursday night (May 2). Duly promoted as befits a sweeps-sized casting coup, Newhart has come aboard TV's highest-rated sitcom for at least three episodes, playing a "Mr. Wizard"- style kiddie science show host who's a childhood idol of Sheldon (Jim Parsons) and Leonard (Johnny Galecki). When Sheldon learns that "Professor Proton" is available for appearances, he giddily books him for an engagement at their apartment.
The Big Bang troops turned into starry-eyed fans themselves when they had TV Academy Hall of Famer Newhart in their midst. "We've have had some great people on this set, but he was the first person that I had that feeling of, 'I can't believe you're real,' " Jim Parsons gushed to the Hollywood Reporter. Executive Producer Steve Molaro told us Newhart "was a sheer delight. ... It's not often you get to work with a legend, and when the legend turns out to be as lovely as he is talented, it makes for a truly unforgettable week."
As for Newhart, at 83 he is getting a big bang out of his career. He still does stand-up dates," about 20 a year. "I'll always do that, as long as the good Lord gives me the stamina to do it. I can't imagine not doing that," he told us. And he enjoys picking and choosing his occasional on-camera assignments, "when things come along that are interesting." A sequel to the big-screen Horrible Bosses is in the making and other prospects loom. The Big Bang Theory marks his first half-hour sitcom appearance in nearly a decade. He was attracted both by the writing and the fact the show is shot before a live audience. He got a standing ovation from that audience at the taping. No surprise.
See more blogs from AARP Blog Author Stacy Jenel Smith
Also of Interest

Join AARP: Savings, resources and news for your well-being
See the AARP home page for deals, savings tips, trivia and more