TV Weddings: What Happens After "I Do"?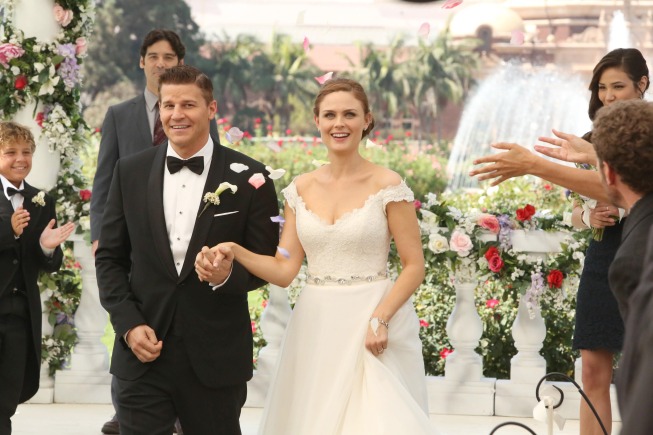 Wedding episodes are one of TV's most reliable tropes. Fans love them because they bring together characters they adore, often after much will-they-or-won't they drama. Networks love them because they often deliver big ratings and weeks of promotional build-up to the Big Day.

Bones, Fox's long-running crime procedural, is the latest show to send out the Save-the-Dates. This Monday night at 8, forensic anthropologist Brennan (Emily Deschanel) and FBI agent Booth (David Boreanaz) will tie the knot. It's been a long time coming for the crime-solving duo, whose charmingly awkward chemistry has carried the show through nine seasons - and counting - of grisly murders and decaying corpses.

Sign up for the AARP Health Newsletter

But what happens after the nuptials? Sometimes, the romantic and sexual tension between characters that led fans to clamor for a union fizzles out. Sometimes a wedding feels like a desperate attempt to grab headlines in a show's waning years. In hindsight, the walk down the aisle is often remembered as the moment a show jumped the shark.

"We don't see the chemistry changing at all," Bones executive producer Stephen Nathan assured this week. "Now we can dive into this marriage and find out how it affects their work."

Nathan is probably right: With a schedule shift from Monday to Friday night looming next month, the ratings for Bones are stable. And the Brennan/Booth marriage is anticlimactic, considering that the couple already shares a home with their baby daughter. But the wedding episode has provided a welcome shot of buzz for a show that is growing increasingly long-in-the-tooth.

Will it last? Well, consider The Office. Pam and Jim's wedding happened at the beginning of the show's sixth season, and the episode drew a spike of attention to the aging sitcom and more than 9 million viewers. It was downhill from there, as viewership sagged even before star Steve Carrell left at the end of the seventh season. When The Office ended its run last spring, the finale drew barely more than half as many viewers as the 2009 wedding episode.

And when Rhoda premiered in the fall of 1974, the Mary Tyler Moore spinoff was an instant hit. Its memorable wedding episode came just eight weeks into its run, pulling in 50 million viewers. But the show's writers struggled creatively from there, and ratings slowly spiraled down. In season 3, Rhoda got divorced, and the series limped on for two more years, never recapturing its wedding episode magic.

There's no secret wedding episode formula: The Brady Bunch was born with a wedding in its very first episode, and then went on to become much more than a hunch. Some long-running shows - Beverly Hills, 90210 and Happy Days, to name two - ended their runs with a wedding episode, trying to lure back fans who had long since fled. Major Healey finally wed Jeannie at the beginning of the fifth and final season of I Dream of Jeannie. The marriage lasted. The show didn't.

And earlier this year, HBO's Game of Thrones threw fans for a traumatic loop with a shocking wedding episode that completely changed the entire series (no spoilers here, but the episode was titled "The Red Wedding" for a very good reason).

The 65-year-old Nathan, who once appeared on Rhoda during his acting days and points to that show's wedding episode as TV's most memorable, sure doesn't sound like a guy getting fitted for water skis. The Bones wedding will be special, he says, but once it's over the show will quickly settle back into the procedural format it does best.

"It's just the next logical extension of this relationship," he says. "The real challenge was planning a wedding episode and a murder."













Also of Interest



See the AARP home page for deals, savings tips, trivia and more