"Boyhood": A Film 12 Years in the Making
By Bill Newcott , July 16, 2014 05:05 PM

There's never been a movie quite like Boyhood, writer-director Richard Linklater's intimate epic about a boy's life from ages 6 to 18.
Linklater started filming in 2002, having hired a young actor named Ellar Coltrane for the lead role and veteran stars Patricia Arquette and Ethan Hawke to play his parents. Once every year or so, they'd all get together in Texas to film a few scenes, chronicling another chapter in the characters' lives. The kid goes to school, encounters bullies, discovers girls. His mom, already divorced when the movie starts, takes up with two guys over the course of a decade, both of them walking disasters. And Dad, something of a wastrel at the start, finds direction for his life - largely through finally accepting his role as a father.
>> Sign up for the AARP Leisure Newsletter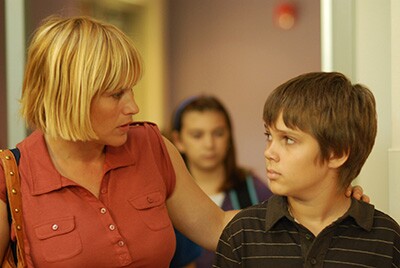 It's the kind of finely focused family drama that another director would have made over the course of a month, hiring a string of vaguely similar kid actors to play the boy and applying dabs of "Watch me aging!" makeup to the grownups.
But Linklater - whose Oscar-nominated series of films Before Sunrise, Before Sunset and Before Midnight took 18 years to tell the story of a couple played by Hawke and Julie Delpy - had something more daring in mind.
"It was absolutely insane," Linklater says now. "It was a technically-out-of-your-mind idea. I know now why no one's ever done it and might not do it again. But this was just the way to tell that particular story about a family, and aging, and growing up. We sort of had to do it in real time. There was no other way to really express it."
>> Get entertainment and dining discounts with your AARP Member Advantages.
For the viewer, the effect is an unusually high level of investment in the characters. With Boyhood running nearly three hours, you might argue the film could use a nominal trim. But that length enhances the sense of having spent most of a lifetime with these people.
Indeed, because Hollywood's vision of domestic drama has conditioned us to expect a car crash or home invasion at any moment, viewers might find themselves subconsciously fretting for this family, wondering when Linklater will unleash the hounds upon them. But it's no spoiler to report that nothing so dire occurs here. The family at the center of Boyhood encounters the types of growing pains familiar to just about anybody. And in a strange way, that makes the film more profound.
"The movie is a pretty intimate experience," says Linklater. "It has this cumulative effect, as the little moments add up to something larger. A lot of us don't have huge traumatic things happen in our lives, but your life still means something. I like the idea of people just relating it to the world around them, and [to] this whole thing we're all doing here."
He laughs. "It's called living!"
Photo: IFC Films/Everett Collection.
Also of Interest

See the AARP home page for deals, savings tips, trivia and more