Brit Mystery 'Broadchurch' Pulls You In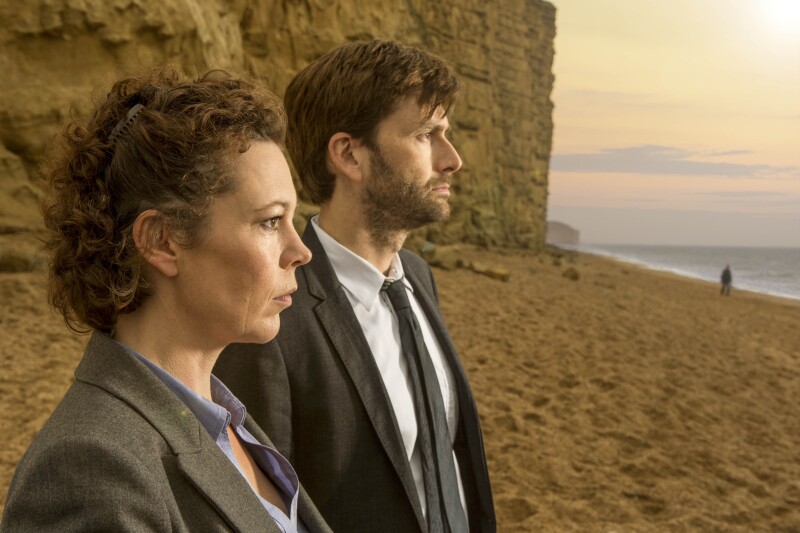 The murder of a young boy throws a quaint British beach town into despair and turmoil in Broadchurch, a gripping new crime drama that begins an eight-episode run tonight at 10 on BBC America.
A hit in the UK when it aired there last spring, Broadchurch is darker than some other Brit detective series that have made the leap across the Atlantic. We're a ways from Inspectors Morse and Lewis, for certain.
Broadchurch isn't the only series on TV this summer to explore the dark side of human nature. The season has seen the debut of FX's The Bridge, about serial killings on the Mexican/American border, the continuation of AMC's The Killing, and the coming conclusions of AMC's Breaking Bad and Showtime's Dexter. Evil runs through them all.
At first glance, sunniness appears to reign in Broadchurch, a seaside community where tourists flock to the sand and surf, and everyone seems like a friend. But something threatening is on the way. We see it as the show begins: a boy stands alone, peering over a cliff high above the beach on a moonlit night. Blood drips from his fingertips.
Soon a body is found on the beach below. At the scene are two police detectives who will form the heart of the show, Inspector Alec Hardy (David Tennant) and Sergeant Ellie Miller (Olivia Colman). Miller is a lifelong townie whose son is best friends with the dead boy. She has just returned from maternity leave; in her absence, out-of-towner Hardy was hired as her superior, to a position she assumed would be hers. The partners are off to a rocky start, and suddenly assigned to a troubling and divisive case.
Tonight's premiere puts its pieces in place so softly and deftly you hardly feel yourself being pulled into the mystery. It's easy to see why Broadchurch was a hit overseas. The writing is taut, the acting top-notch, the location a perfect canvas of small town pleasantry, ripe to be ripped open. In an instant, everyone in this idyllic hamlet is a suspect.
Broadchurch will air weekly on BBC America, Wednesdays at 10 p.m.