Innovative Design a Foundation of Ware's 'Building Stories'
The first, and most important, question confronting someone choosing to write about Chris Ware's graphic novel Building Stories is where to begin.

Do you start with the powerful narrative or its unusual physical and artistic composition or the critical acclaim that may appear over the top until you've spent time immersed in this brilliant work?

Since architecture provides much of the framework for Building Stories let's begin with the novel's physical and artistic composition. It comes in 14 parts housed in a box the size of a typical board game.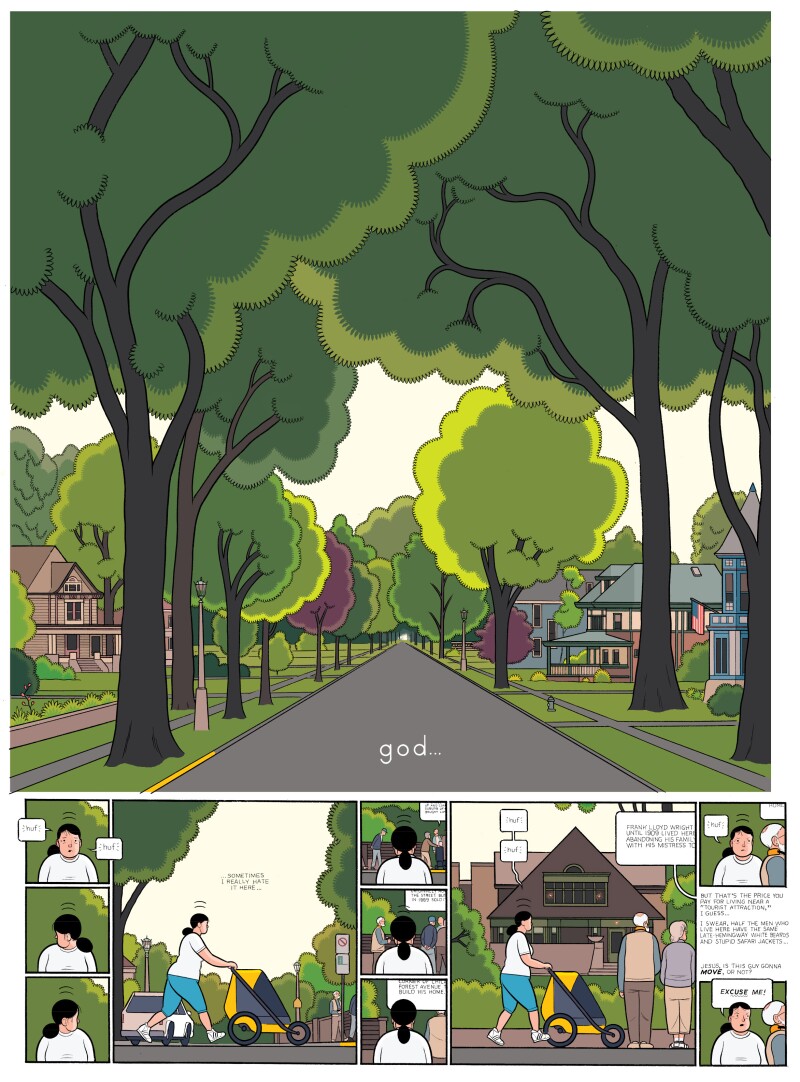 The 14 parts are described as "distinctively discrete books, booklets, magazines, newspapers, and pamphlets." One of the books resembles nothing so much as a Little Golden Book.

There's no specific starting point. The reader can begin this story wherever chance and inclination takes her. I read from smallest to largest.

With no clear beginning, readers, like Vonnegut's Billy Pilgrim, jump through time.

Those jumps may begin with the chief protagonist as a lonely young adult, skip to her childhood and then leap to the present where she is a mother and wife.

The lack of authorial direction is not as daunting as it first appears. It's nothing we aren't accustomed to in novels or movies and Ware's artwork helps place the reader in time far more quickly than text alone.

The woman, who is the focus of this multi-layered story, is unnamed. The reader learns that she is a florist, has a prosthetic leg and is a former art student.

During one stage of her life she occupies the top floor of a three-story building in Chicago. The building's other inhabitants are a frail spinster and a couple whose marriage is falling apart. In this heart-rending passage, the characters are isolated by a cocoon of loneliness and despair.

Building Stories has been described as important, delectable, intricate. It is all that, and more, which explains why Time and the New York Times each selected it as one of the top 10 Books of 2012. Publisher's Weekly named it the best book of the year.

It was nominated for five Eisner Awards, the comic industry's equivalent of the Oscar, including Best Graphic Album, Best Writer/Artist and Best Publication Design. Results will be announced in July at the Comic-Con International in San Diego.

See also: Marvel Comics superheroes celebrate 50th anniversary!

No other graphic novel compares to Building Stories. Taken merely as a story, it is insightful, compelling, and evocative. Ware's drawings and innovative design raise Building Stories to another level.

One that results in a rich and rewarding read, and that demonstrates the full scope a graphic novel can achieve.

Native Kansan John Reinhart is a comic-book devotee, foodie, runner, and cyclist. You can follow his reading life at bibliobloggin.blogspot.com or on Twitter @bibliobaggins.

Image from Building Stories courtesy of Chris Ware/Pantheon Books.



Also of Interest

Join AARP: Savings, resources and news for your well-being


See the AARP home page for deals, savings tips, trivia and more