'Covert Affairs' Romance Is On, For Now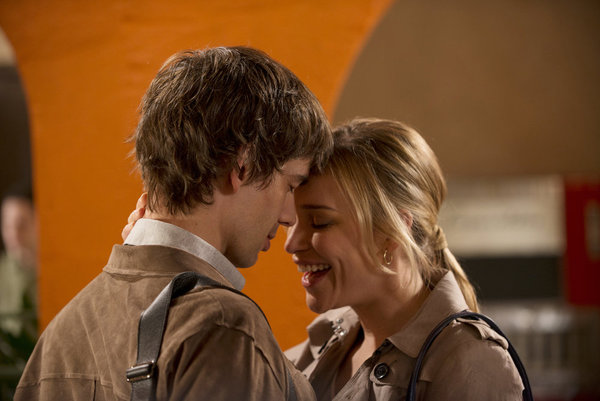 Annie Walker, how you've grown. In Season 1 of Covert Affairs, you were an overeager CIA trainee, now, in your fourth season, you're sophisticated, smart and oh so cool. At long last you've hooked up with dreamy Auggie Anderson - the special ops guy who works at Langley doing tech since being blinded in the line of duty, and who has really nice hair.

Covert Affairs shakes things up in the new season, which gets under way Tuesday, with a storyline that barely allows Annie and Auggie - Piper Perabo and Christopher Gorham - their long-awaited assignation before casting them into a cauldron of clandestine calamity in Medellin, Colombia. Matt Corman and Chris Ord, the show's creators and executive producers, knew there were risks to satisfying their characters' sexual tension. So why make Annie and Auggie a couple now?

"We felt it was a natural point to get them together rather than do one more season of finding constructs to keep them apart. It felt like time to honor the chemistry between them," said Ord. "What we're excited about is, just because they've come together doesn't mean it's going to be easy, or lacking challenges. Having a relationship in the CIA is extremely difficult, especially when you're dating somebody who is also a spy, who by their nature is very secretive. There are secrets this year that will challenge their relationship. It gave us more possibilities, not less. It sounded like a way to enter a new chapter."

In fact, added Corman, "The Annie and Auggie romance will evolve but there will be some complications that will represent some of the biggest bombshells we have had yet in the show ... huge reveals that affect their relationship greatly."

The new season opener also adds Hill Harper as the CIA station chief in Medellin, and Kari Matchett's senior officer, Joan Campbell, learns she's pregnant, as is Matchett in real life.

According to Corman, they'd heard that Harper, a regular on CSI:NY, (and Harvard pal of Barack Obama, btw) was interested in looking into some other options, and arranged a meeting. "He played a scientist for eight years and I think scientists by nature have to be more subdued and keep their emotions inside, whereas with this character, we wanted someone who would be a bit more of a lightning rod and carry a bit more swagger. And we knew Hill had that, so it was actually a great fit; he wanted to do something like this and we had the right character for him."