'DWTS' Favorite Derek Hough Is All Over TV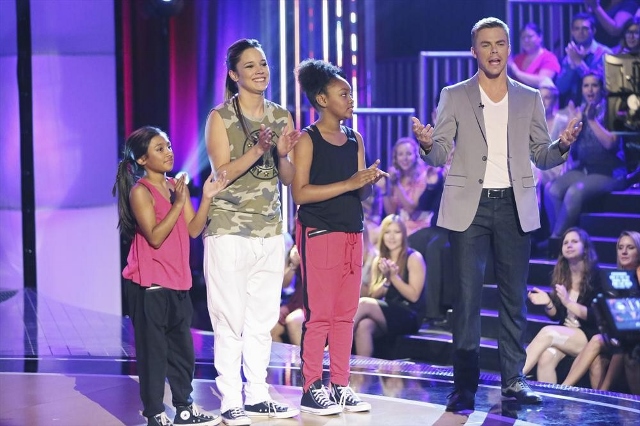 Fans of Dancing With the Stars' winningest pro, Derek Hough, will get to see a lot of him starting Sunday August 25.

Hough hosts ABC's Family Dance Off special in which five families with terpsichorean talents vie for a $10,000 prize. Hough has called it a feel-good show in which everyday people have the chance to rock it as dancers. The competing families are from widely diverse backgrounds, have styles that are very different from one another, and include some cute kids, making this a fun show to watch. Of course, if it proves a ratings winner, more Family Dance Offs could be swinging our way.

For Hough, the Family Dance Off idea is a natural. He comes from a family of dancers - grandparents, parents, and four sisters including fellow dance star-turned-actress Julianne Hough. Another dance family has been key in his professional life, too. He lived and studied in London with dance coaches Corky and Shirley Ballas (at age 12) - and trained with their son, Mark, who is now his biggest DWTS competition.

Of course Hough is back for Season 17 of DWTS beginning Sept. 16, saying he's looking forward to the streamlined new Monday-nights-only format. No more of those tired Tuesday results shows. Plus, he'll be spotlighted at the Sept. 22 Primetime Emmy Awards. For the first time in Emmy history, the choreography category - in which Hough is a double nominee - is being moved to the Primetime Emmy show, while the category for reality competition host moves for this year to the non-televisited Creative Arts Emmys ceremony. The nominated choreographers are creating a dance number for Emmy host Neil Patrick Harris and may perform with him as well.

A few more things for Hough: He has a Game Shows Network dance game pilot on the boards. He and sister Julianne are preparing to produce a scripted series set in the competitive ballroom dance world for Starz. And he has a book in the works. But don't worry - all this diversification has nothing to do with the athletic and brilliantly innovative star thinking of hanging up his dance shoes any time soon. The four-time Mirror Ball trophy winner and five-time Emmy nominee is still only 28 years old.