Does Sawyer's Evening News Departure Matter?
By Lorrie Lynch , June 25, 2014 05:30 PM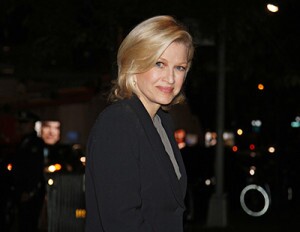 Diane Sawyer is stepping down from her hard-earned anchor seat at ABC's World News, which means that we'll return to a TV news landscape where every evening news anchor is a white man. Should we care?
Let's face it. Network nightly news programs just don't have the gravitas that made those anchor jobs prestigious and important, as they were back in 1976 when Barbara Walters first put a crack in the glass ceiling and shared the ABC nightly news desk with a really teed-off Harry Reasoner. Back then, a nightly newscast was the one place to get your dose of the day's events, and Walters' move was an important feminist workplace milestone.
>> Get travel discounts with your AARP Member Advantages.
Today, with the Internet and more than 30 cable shows putting on nonstop news and views all day, who needs a 6 p.m. catch-up? Sawyer's broadcast crows about 7 million viewers in a week. On the same network, Dancing With the Stars can attract 15.6 million on a good night in its 18th season. Apples and oranges? Maybe. But interesting, nevertheless.
So kudos to Sawyer, who at 68 is moving out of a daily rat race and into a role that no doubt will be equally challenging and more fun. She is to have her own production unit and work on her new programming projects and big interviews. It is not likely a coincidence that Sawyer's friendly rival, Walters, is now safely retired. There's room for Sawyer to do her own thing in a much bigger way. And if Sawyer waits as long as Walters did to retire, she'll have another 16 years to continue to make her mark.
Replacing Sawyer in the anchor seat when she officially leaves in August is ABC's World News weekend anchor David Muir. Yes, you may have to Google his name to bring him to mind. Gone are the days when the line of succession at any network news program was the topic of water cooler speculation. So I ask again: Diane Sawyer is leaving her hard-earned anchor seat. Should we care?
Photo: Rob Kim/Getty Images
>> Sign up for the AARP Money newsletter
Also of Interest

See the AARP home page for deals, savings tips, trivia and more