'DWTS: All-Stars' Gathers Steam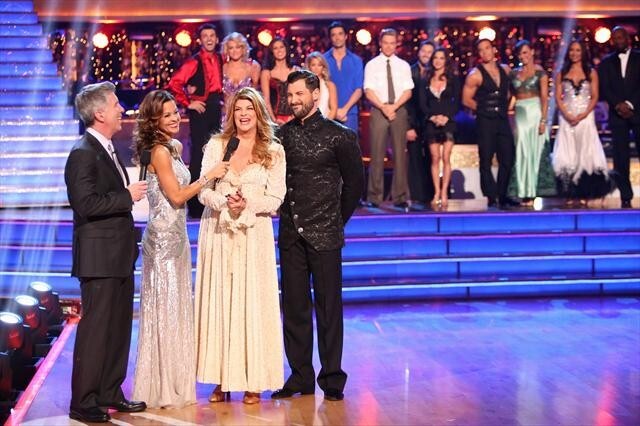 Kirstie and Gilles out?! Nooooo! Okay, I'll admit it, I'm caught up in "Dancing With the Stars: All Stars" despite early misgivings about this season's format. When the 15 th round of ABC's stalwart pro-celeb dance competition opened in September to lower-than-usual numbers, I asked whether it could gain steam in the weeks ahead. Now we're down to the semi-finals, and the answer is that is has, indeed, gained steam.

"DWTS: All Stars" generated its largest audience of the season last week, topping week-by-week gains logged over the preceding eight weeks. Going into the week, the performance show was No. 12 in the Nielsen season-to-date rankings with an average of 14.28 million viewers, and the results show came in at a respectable No. 18 with an average of 13.13 viewers. Yes, there is audience erosion - Season 14 averaged 15.86 million viewers and Season 13 averaged 15.53 million. But given the show's age, the drop-off is not bad. With the all-stars we've seen exceptional dancing and innovation, if not the big transformations that have brought so much emotion into the show in the past. (Unfortunately, there is real-life trauma behind the scenes, with Brooke Burke-Charvet facing surgery for thyroid cancer -- and the "DWTS" family on and off-camera are pulling together to support her.)

"DWTS" is still one of the few water cooler shows on TV. Who doesn't have an opinion about whether Derek Hough's ego is out of control, or whether the judges are giving Emmitt Smith too much slack. Tony Dovolani certainly called it right when he cited Emmitt as one to watch and said, "always the athletes."

Now, in addition to the question of who will take the Mirror Ball Trophy home this season, there's the question of how many viewers will tune in to find out. Some 24 million watched when Jennifer Grey won the big prize in 2010, while 19.5 million saw J.R. Martinez' victory. What do you think?