'Emily Owens' a Win for Meryl's Daughter Mamie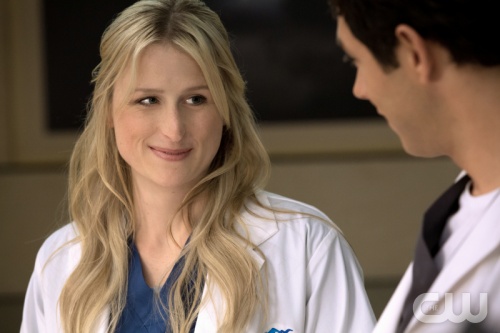 Shhh. Don't tell anybody we're here. In the ageist world of TV, especially broadcast TV, it is no longer enough to ignore viewers 50 years of age and above. Now, if we become fans of a show, it can actually hurt its chances for survival. Right, Kathy Bates?

So as we venture into the youth-centric CW network for a look at Emily Owens, M.D., let us all tiptoe and refrain from loud conversation. Watch the show, but - God forbid - do not let it get back to the network if you like it.

I like it quite a lot, and the main reason I like it is Mamie Gummer, aka Meryl Streep's 29-year-old daughter, who is charming and adorable as the titular novice medico. Her Emily character has the brains and instincts of a brilliant surgeon in the making - but she is oh-so-socially clumsy and insecure. Gummer's moment of truth with a hunky fellow resident she has a crush on in the pilot episode was so awful to behold, I could barely bear it. Oh, the cringe-worthiness! And the humor, in a we've-all-been-there kind of way.

Except - perhaps Mamie never has been there. With her lineage, her striking resemblance to her legendary mother, her presence on the New York social scene and her star-on-the-rise husband (Benjamin Walker of Abraham Lincoln: Vampire Hunter), it is hard to imagine that Mamie has ever had an awkward day. What acting!

Anyway, the plot has Emily discovering that the hospital, with its cliques and staff dramas, has a lot in common with high school, where she felt like a dork. But that premise feels a lot like a mere launching point for the show that Emily Owens, M.D. will evolve into, a show that I hope will rise above a few tried-and-tired twists seen in Tuesday night's (10/16) first episode.

Mama Meryl is, of course, bullish on the series. She told the press, "I love that it's for CW and that it's an antidote to some of the dicier things for young girls that are out there." She also said, "I'm really proud of her." Now, there's one 50+ viewer whose endorsement should be gladly accepted.