Emmys 2015: Opportunity Has No Age Limit
By Lorrie Lynch , September 21, 2015 01:24 PM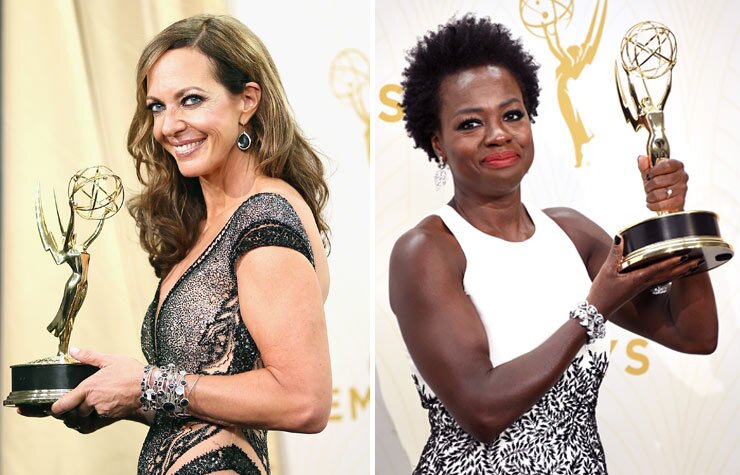 Viola Davis (right), the first African-American woman to win an Emmy award as Outstanding Lead Actress in a Drama, powerfully called out Hollywood in her acceptance speech Sunday night: "The only thing that separates women of color from anyone else is opportunity."
On Twitter, her fellow nominee Kerry Washington joined in: "AMEN!!!"
Yes, it was a good Emmy ceremony for black women; other winners included Regina King as Outstanding Supporting Actress in a Limited Series (for American Crime) and Uzo Aduba as Outstanding Supporting Actress in a Drama (for Orange Is the New Black). But the annual TV awards show also made it clear, once again, that when it comes to opportunity for people over 50, the world of television work is improving.
Since its birth, TV has been a place for talent to age gracefully: Think Lucille Ball, Mary Tyler Moore, Candice Bergen and many a late-night talk-show host, from Jack Parr to David Letterman. Now, thanks to stars such as Allison Janney (above, left), Julia Louis-Dreyfus and Davis — all in their 50s, and all winners Sunday night — it's no longer about aging at all. It's about being ready to do the best work of your career.
Enjoy life with our popular games, delicious new recipes, the latest movie review and more! — AARP Leisure Newsletter »
Opportunity extends to those who work behind the scenes, too. The over-50 Emmy winners included such behind-the-camera talents as 50-something directors Jill Soloway ( Transparent), David Nutter ( Game of Thrones) and Lisa Cholodenko ( Olive Kitteridge). Kitteridge writer Jane Anderson, 61, won a statuette as well.
Host Andy Samberg, 37, made an early joke about the age gap between hiring men vs. women in Hollywood, but the story played out on stage more equally. Those 50 and older — of both genders — were big winners. Bradley Whitford, 55, and Joan Cusack, 52, had already won for guest roles in comedy at an earlier ceremony. Richard Jenkins, 68, and Frances McDormand, 58, both won as the leads in the miniseries Olive Kitteridge, an affecting story of a long-term marriage. Bill Murray (who turns 65 today) won for his supporting role in Kitteridge.
Then there was Jeffrey Tambor, 71, who had already won a Golden Globe for his role as the transgender parent in the Amazon series Transparent; he walked off with Outstanding Lead Actor in a Comedy Series. And Jon Stewart's The Daily Show won three awards for its recently departed 52-year-old host.
George R. R. Martin, creator of HBO's Game of Thrones, stormed the stage with a large retinue when his show won for best drama, but he was celebrating another milestone as well: Martin turned 67 yesterday. And Mel Brooks, 89, presented the Veep crew its best-comedy honor, then got into taking selfies with star Julia Louis-Dreyfus.
Get discounts on hotels, airfare, car rentals and more — AARP Member Advantages. »
The takeaways are many:
* Nothing pays off more than experience.
* Birth year has no bearing on talent.
* The explosion in television production has made room for diversity of age; with new originators Netflix and Amazon in the game, there are some 400 scripted series in production this season. That gives us reason to hope that, as Viola Davis challenges it to do, TV will continue expanding even more to diversity of race.
Photos: Getty Images
A lso of Interest

See the AARP home page for deals, savings tips, trivia and more.