'Golden Boy' Looks Like a Winner
By Austin O'Connor , February 26, 2013 09:55 AM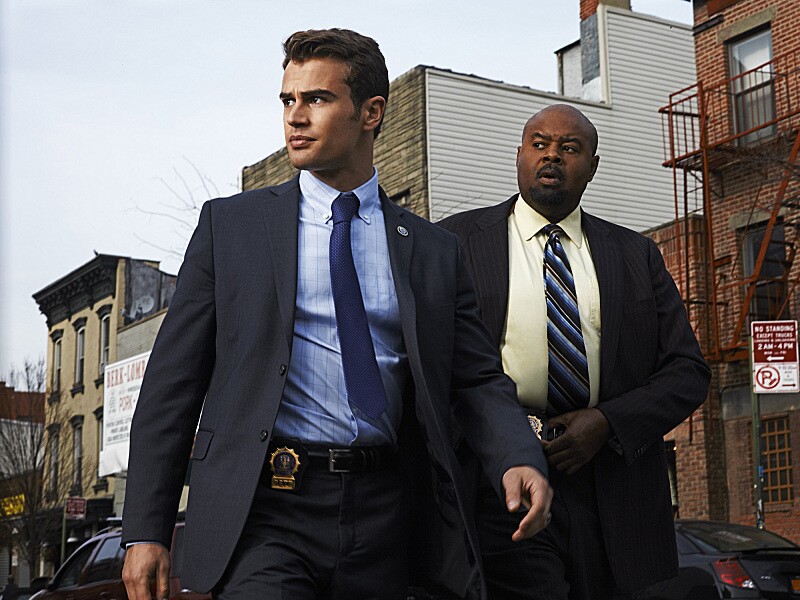 A lackluster stretch for new network dramas comes to an emphatic end tonight with the premiere of Golden Boy, the gripping new CBS cop show that breathes fresh life into the standard police procedural.
British newcomer Theo James, 28, plays New York City cop Walter Clark, the hotshot of the title. Golden Boy's hook is that we first meet Clark seven years in the future, just after he is named the youngest police commissioner in the city's history. The completed Freedom Tower looms outside the picture window of his enormous office. A newspaper reporter queries him about his quick rise up the NYPD ladder - and then the action flashes back to his present-day beginnings as a beat cop.
It's clear that the series will use the framework consistently, with each episode further illuminating Clark's path to his lofty perch. Telling the story this way is a risk, but at least in the first few episodes, it works wonderfully, lending the flashbacks, which make up most of each episode, added meaning, as we know (or think we know) how the whole thing turns out.
In tonight's premiere, Clark's heroism during a hostage standoff turns the fledgling officer into a media darling, a status he skillfully parlays into a prime spot on the city's elite homicide task force, where he's the youngest detective by a decade, and resented for it. There's the usual assortment of macho rivalries among the detectives and soon enough, a body turns up dead.
The show relies on the standard case-of-the-week setup. But what sets it apart - and what makes Golden Boy such a promising variation on the reliable cop show trope - is the mentor-protégé relationship into which Clark settles with partner Don Owen, a long-in-the-tooth detective played by Chi McBride. Owen's introduction borders on the cliché, especially as he barks to his chippy young partner about his impending retirement, which he hopes his eager young partner won't jeopardize.
The 51-year-old McBride (Boston Public, House, M.D.) lends Owen a wonderfully self-assured air, the kind that comes from hard-earned experience, and it plays in nice contrast to Clark's impulsive hothead. The show is snappily written, taking its time to reveal its characters' ambitions and motivations - Clark cares for a young sister with drug problems, and there are hints that his past isn't squeaky clean.
The best scene in tonight's very solid premiere solidifies the May/December partnership at the heart of the show: old pro Owen calmly counsels his impatient young colleague against planting evidence, and warns against taking shortcuts when building a case. Watching it and knowing how far Clark will eventually climb, it's easy to wonder if he advances because of the advice, or in spite of it - and to want to keep watching to find out.
Golden Boy airs tonight at 10 p.m. on CBS. It airs next Tuesday night at 10 p.m. as well, then moves to its permanent Friday night slot at 9 p.m. on March 8. Episodes are also available online at cbs.com.