Good TV This Week: 'Blue Bloods' Pumped Up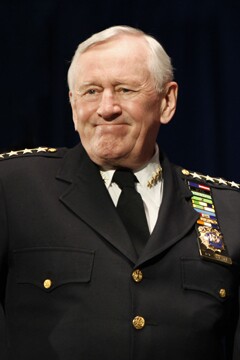 There was a festive feeling among the "Blue Bloods" company Monday as the team completed production of its second season. The creative changes and behind-the-scenes drama of Season 1 are distant memories. Last month, the show about an Irish-American family full of New York City cops -- a Grownup TV favorite from the start -- won early renewal for Season 3.

The writers love that, according to Len Cariou, who plays patriarch Henry Reagan. "They've got a head start, if you will. They can go do the work they need to do, shaping new stuff."

Expect some of that new stuff to involve Henry getting out of the house and more actively participating in the goings-on of his close-knit family, starting with series son Tom Selleck. "The audience is responding when I'm a little more involved. Remember, I was the police commissioner before he was," said Cariou, who has talked with the show's writers about Henry's future.

Meanwhile, viewers have strong episodes in store as " Blue Bloods" heads toward its May 11 Season 2 finale, a thriller in which Frank (Selleck) gets information about a bio terror threat in New York City.

This week's (4/27) episode, involving a Russian mob trial, was directed by James Whitmore, Jr. - a small world circumstance for Cariou. "I knew his dad," recalled the Tony-winning, Winnipeg-born actor. "I actually directed his dad and Audra Lindley in Death of a Salesman up in Edmonton." Cariou, whose notable achievements include originating the title role in Sweeney Todd: The Demon Barber of Fleet Street, enjoys his present series home -- and its fans. He gets approached often, he said. "People come up to me on the street and tell me they love having dinner with the Reagan family on Friday nights."