Good TV This Week: July 4 With the Boston Pops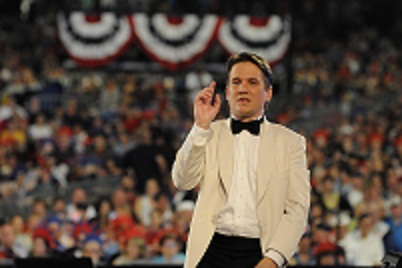 If you are like most TV-owning Americans of a certain age including myself, chances are you have spent at least one or two Independence Day nights with the Boston Pops on the tube -- either paying close attention to the magnificent musicianship and prodigious pyrotechnic pageantry on display, or using the broadcast as accompaniment to your own 4th of July revelry. This is Boston Pops Conductor Keith Lockhart's 18th year of leading the July 4th charge, this time with the assistance of Michael Chiklis as host, and Jennifer Hudson as special guest star -- along with the fireworks, of course. I had a quick chat with the maestro before rehearsals for the 39th "Boston Pops Fireworks Spectacular" tomorrow on CBS:

Q: Through the years, have you had any close calls with fireworks, smoke or other hazards?

A: Well, that's always the exciting part of live, outdoor performance. There are lots of variables that we can't control, but the biggest one is the weather...A few years ago, there was a thunderstorm warning that was so severe they evacuated the audience, which meant moving hundreds of thousands of people to nearby highway tunnels, things like that. That was about an hour before the performance, but [the warning was lifted] and it was fine....It was still raining during the concert, and I was the only one they couldn't push far enough under the coverage -- so I actually conducted in a big state police slicker.

Q: How do you characterize your mood as you go into this? Is it a mix of excitement and dread or what?

A: Anticipation, in all its facets... It's an exhausting experience. Most of the day of the 4th of July I lie around and try to get ready.

Q: Do you feel a pull between giving everybody the traditional things they want and a desire to strike out and try something new?

A: That's the balancing act that really is the 4th of July. The whole idea of holidays is tradition and people coming back to things they love, and you have to honor that. I mean, if we did a 4th of July concert and didn't do The 1812 Overture and Stars and Stripes Forever, I don't think we'd make it out alive. On the other hand, of course, obviously you can't just repeat the same concert year after year.

Q: What about this year? You've got Jennifer Hudson.

A: She's a fabulous performer and I think we're really lucky to have her. Of course the concert is televised and goes nationally, but I think what makes it successful is, it's a great live concert and there are a half a million people there, listening to it live. It's very important to us to have someone who can really reach out and touch that large a crowd, and I think she'll be great for that.

Q: What else is new?

A: We're introducing a new patriotic sing-along. It's so wonderful when you get people involved, singing with the orchestra.