Good TV This Week: Lisa Kudrow's Quirky 'Therapy'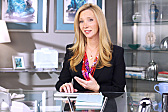 Lisa Kudrow's self-centered online therapist, Fiona Wallace, returns to cable television in all her vainglory tomorrow night (7/2), as "Web Therapy" begins what they're calling its "Season 2.0" on Showtime. If you haven't already sampled it, this is an opportune time. The largely-adlibbed show, transplanted from its internet point of origin on lStudio.com, is a hoot. It's also a celebrity magnet, with big names clearly having a blast playing with Kudrow in her psychobabble sandbox.

This season, Conan O'Brien is the first celeb to play himself. Of course, the awful Fiona makes it clear right away that she doesn't recognize him, even after explains how important he is. Meryl Streep plays a sexual orientation therapist whose clients include Fiona's congressional candidate husband (Victor Garber). Kudrow's former "Friends" cast mate David Schwimmer will be seen as a character nothing like lovable Ross Geller.

"He got so dark, at one point I was getting scared for Fiona -- at times he was so terrifying," Kudrow told AARP.org. "He was so, so good. Really, really good. When Schwimmer makes a choice and a commitment, he goes all the way. 'So you've decided you're going to do a stalker.'" His episodes start in the eighth out of Season 2.0's 11 shows.

Also frightening: some of the response Kudrow has had from real-life therapists, who apparently get vicarious thrills from Fiona, wishing they could dismiss problem patients as briskly as Fiona does. According to Kudrow, "A few have taken me aside and said, close to my ear, that they sometimes wish they could say to people, 'You're an adult now. Knock it off.'"