Good TV This Week: 'The Good Wife' Season Finale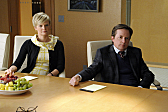 Season finale time is a bittersweet time for fans of Julianna Margulies' "The Good Wife" -- bitter, because one of the smartest and most brilliantly-performed dramas on the air is about to take a few months' respite, and sweet because of the promise of a banquet of TV deliciousness.

Tonight's (4/29) episode brings in a pair of ace guest stars, Michael J. Fox as tricky Louis Canning and Martha Plimpton as snarky Patti Nyholm, uniting to bankrupt the Lockhart Gardner firm with a fraud suit. Canning's willingness to put his neurological disorder on display to gain sympathy is a great example of "Good Wife" creators Robert and Michelle King's penchant for taking chances with "comedy applied to things that really shouldn't be funny," as he puts it.

What has the show's followers really salivating is finding out answers to simmering storyline questions. At long last, we'll be learning more about the enigmatic Kalinda's (Archie Panjabi) secret past. What is to become of Alicia's (Margulies) feud with her ailing mother-in-law Jackie (Mary Beth Peil)? How about the threat of Alicia and the children being brought down by the gubernatorial campaign of estranged husband Peter (Chris Noth) -- a threat as laid out by his evil lying opponent Mike Kresteva (Matthew Perry). What of Alicia's feelings for Peter? For Will (Josh Charles)? And what lies ahead for the rest of the divine cast that also includes Christine Baranski, Alan Cumming and Matt Czuchry?

The Kings might be setting up next season as a sort of return to Season 1 motifs, with Alicia and Peter once again side by side, presenting a united front as he runs for office. Except now, post-betrayal and rebuilding, we have a different Alicia: a tougher, stronger, savvier Alicia. Whatever is in store, now is a good time to jump in, catch up ( past episodes are online and past seasons on DVD) or simply savor the Grownup TV specialness of the Peabody and Emmy award-winning "The Good Wife."