Grownup Talent Shines at 64th Primetime Emmys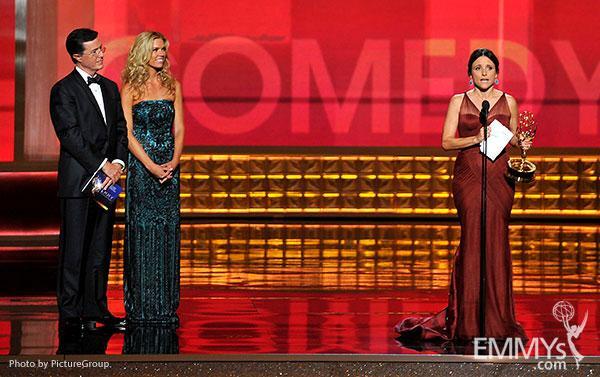 The 64th Primetime Emmy Awards proved a great night for mature talent to shine.

As double winner Louis C.K., 45, put it, when asked backstage why his show works now while past efforts failed, "because I'm better than I was before. ... Older people are smarter and funnier."

In the case of Outstanding Lead Actress in a Comedy Julia Louis-Dreyfus, we'd have to say she has always been smart and funny - and continues to be at the top of her game at 51. The "Veep" star insisted that winning her third Emmy was no less a peak experience for her than in the past: "I need an Advil, I have a headache, I can't believe it!" Louis-Dreyfus said that the fact her show was born in a political year has impacted it, certainly. "There's a lot of good rich material there, little morsels we can take away."

Julianne Moore, also 51, took more than morsels to create her Emmy-winning portrayal of real-life veep candidate Sarah Palin in Game Change. Backstage, she said she had meant to acknowledge Katie Couric and fellow Palin imitator Tina Fey for the influence they had had in shaping the public perception of Palin. Not surprisingly, Moore did not expect Palin to make any public comment on her win.

Hatfields & McCoys Outstanding Lead Actor Kevin Costner, 57, and Supporting Actor Tom Berenger 63, came backstage together.

Giving kudos to the History Channel for gambling on his record-breaking miniseries, Costner pointed out, "We have a tendency not to see the risk in reverse. ... Now it's a big win. ... A year ago, careers were on the line."

He acknowledged that he's been focused on his family of late. "I had three babies with my wife - a five-year-old, a three-year-old and a two. I probably worked a fraction of what my colleagues have been doing." In fact, he said, his children may not even realize he's an actor. By the sound of what he said backstage, acting may not be his main focus in coming years, either. The star shared that he'd been writing a lot of TV scripts, and that he has several features he'd like to direct.

We saw a still-drop-dead gorgeous Jessica Lange, a glamorous vision in a draped orange Reem Acra gown, pick up her Supporting Actress honors for American Horror Story joking that creator Ryan Murphy, wooing her to be on the show, had promised her more than any man. Those promises certainly worked out - not only did she win an Emmy, but season 2 of American Horror Story is being built around the star playing a different character, a nurse in a 1960s insane asylym.

"When my name was called I thought, 'Oh my God, I have such a long way to walk in these incredibly high heels and I hope I make it.' That was my main thought," admitted Lange backstage.

She also tipped that her next AHS season will be "a more complex story. You know, Ryan likes to create these things around themes. The first season was infidelity, and this is more about faith and madness. I think the themes are bigger this year, which allows us to go further."

Tom Bergeron, 51, got his Emmy as host of Dancing With the Stars - his first win in seven nominations. Backstage, he side-stepped a question about which of the Dancing of the Stars all stars he feels most excited about: "If I answer that question, I piss off 12 people," explained the host, who is known for his ribald humor off-camera.

He also doused the internet firestorm over Maksim Chmerkovskiy quitting the show. "No, no. I talked to him yesterday, and I asked him, 'Is this it, buddy? Do I not have to worry about getting my ass pinched now?' " Chmerkovskiy told him his comment was taken out of context and that he actually meant he intended to leave after this contract was up in 2013.

It was nice to see recently ailing Kathy Bates in the middle of the Emmy action tonight, even though Harry's Law didn't bring her an Outstanding Lead Actress in a Drama Emmy, she looked in fine fettle and seemed to be having a great time. And heck, she won for her Two and a Half Men guest spot last week.

Dame Maggie Smith won Outstanding Supporting Actress in a Drama honors, but alas, was not present - the sole Downton Abbey win out of 16 nominations. At least the British serial wasn't skunked like Mad Men. That long-time Emmy darling came up with zero wins in 17 nominations this year, which broke a record.

The big winners, of course, were Homeland and Modern Family - along with the movie/miniseries winner, Game Change, produced by another mature talent, 56-year-old Tom Hanks.