Happy 53rd Birthday to Madonna!
By Jen Martin , August 16, 2011 04:18 PM
"Cone Bra." "Feisty." "Innovative." "Re-invention." These are the words my colleagues used to describe Madonna, who today turns 53. For me, Madonna, born Madonna Louise Ciccone - is more than the words, my colleagues used to describe her. She's more than just the buff blonde dancing on stage with ridiculously good-looking men and women. She's more than the world's top selling female artist (Lady GaGa, keep trying). She's more than what the tabloids show her to be - ballsy, bull-headed and your other occasional "B" word.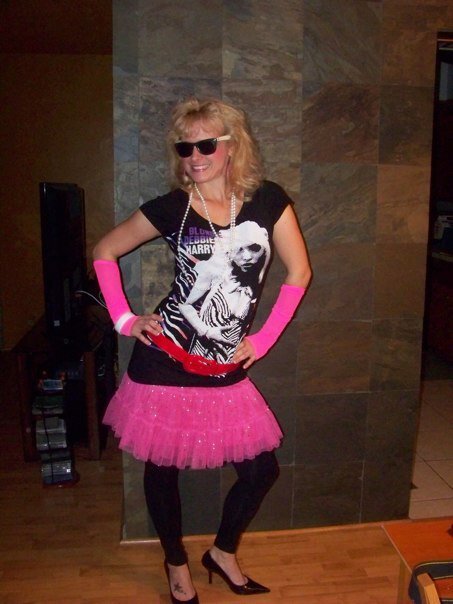 She is the voice I listen to when I'm feeling lousy, when I need hope and strength and especially when I'm ready to have a little fun.
You see, for all of my life, Madonna's music has been in the background, whether it's the CD set on repeat in my car, my phone ring-tone or a lyric I drop in my every-day encounters. Friends and even past boyfriends associate me with her. "You're forever cursed to think about me when you hear a Madonna song," I said to them, with a smirk.
I remember the first time I saw her "Lucky Star" video. I think it's what started my love affair with the color black. (Video tidbit: her brother, Christopher, is one of the back-up dancers). I was on a hunt for her outfit: the black skirt and frayed top, leggings and black ankle boots. Much to my parents' dismay I teased my hair into knots, bought and wore black jelly bracelets that covered every inch of my arms, and sported the closest thing I could find to black Ray-Bans. My idolization had begun.
I fervently learned all of her video dance routines. I had the "Papa Don't Preach" strut down, the "Like a Prayer" knee drop on point, and to my parent's dismay, yet again, the "Open Your Heart" chair dance memorized (by heart). As I aged, I listened to new music and different artists, people like Mariah Carey and Tori Amos, who undoubtedly have been influenced by Madonna. It wasn't until I was in my mid 20s that I re-ignited my love affair with her voice. I drowned myself in her later albums: Ray of Light, Music and American Life. The sound was different. I was different, the time was right.
In 2001, she went on the Drowned World Tour. Having never seen her live, I bought tickets for me plus my best friend. It was a night I'll never forget. I wound up befriending both one of her dancers and her masseuse.
I've seen her last four tours and although everyone claimed her last tour, Sticky and Sweet, would be her final. I know it's not. You know why? Because it's Madonna. Because she's feisty and innovative and loves to reinvent those cone bras into racier outfits.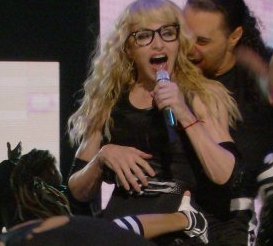 In 1983 she told Dick Clark that in 20 years she wanted to "rule the world." Almost 30 years later, and she's still ruling the world, as far as I'm concerned. Whether it's through music, movies, books or fashion, she is an unstoppable force - a powerhouse of persuasion and perseverance and I don't expect her to retire anytime soon. Heck, most of our members aren't retired. I wonder if she ever got that AARP card?
Happy Birthday Madonna!
Who's been your musical influence all these years? PS - ironically Elvis was found dead on this day in 1977. Madonna said she always felt connected to him because of it.
Photo credit: Jen Martin