Harper Lee to Publish 'New' Novel in July
By Deirdre Donahue , February 03, 2015 12:44 PM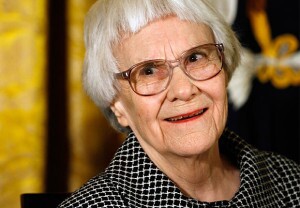 Oh happy day!
On July 14, Harper Lee will release a second, newly discovered novel titled Go Set a Watchman.
Now 88, the author is world-famous for her first — and, until now, only — book, To Kill a Mockingbird. Published in 1960, it won the Pulitzer Prize and was adapted into an Oscar-winning film starring Gregory Peck as Atticus Finch.
The new novel will be published in North America by Harper, an imprint of HarperCollins.
Said Lee in a statement released by her publisher, "In the mid-1950s, I completed a novel called Go Set a Watchman. It features the character known as Scout as an adult woman and I thought it a pretty decent effort. My editor, who was taken by the flashbacks to Scout's childhood, persuaded me to write a novel from the point of view of the young Scout. I was a first-time writer, so I did as I was told. I hadn't realized it had survived, so was surprised and delighted when my dear friend and lawyer Tonja Carter discovered it. After much thought and hesitation I shared it with a handful of people I trust and was pleased to hear that they considered it worthy of publication. I am humbled and amazed that this will now be published after all these years."
>> Looking for a fun gift idea? AARP can help you celebrate that special birthday. Shop now
" Go Set a Watchman is set during the mid-1950s," according to Lee's publisher, "and features many of the characters from To Kill a Mockingbird some twenty years later. Scout (Jean Louise Finch) has returned to Maycomb from New York to visit her father, Atticus. She is forced to grapple with issues both personal and political as she tries to understand her father's attitude toward society, and her own feelings about the place where she was born and spent her childhood."
After the book To Kill a Mockingbird was released in 1960, Lee put aside Go Set a Watchman. The original manuscript was considered lost until the fall of 2014, when Lee's lawyer, Carter, found it attached to an original typescript of To Kill a Mockingbird.
Photo: Chip Somodevilla/Getty Images
Also of Interest

See the AARP home page for deals, savings tips, trivia and more.