History's 'Vikings' - Even Plunderers Love Their Kids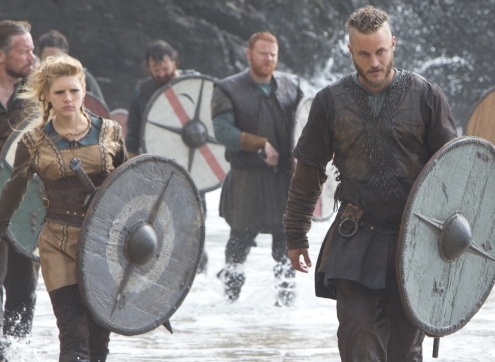 Vikings sets out on its voyage as History's first original series tonight (3/3), and it's quite the spectacle to behold. From filmmaker Michael Hirst of Showtime's The Tudors and the big-screen Elizabeth fame, the drama gives us power struggles, romance, intrigue, encounters with Odin and sailing adventure - along with the requisite gouging and impaling you knew would be part of any story of these brutal raiders of the north. (Especially those hoping to attract a young male audience, as this one is.) The series, made for a reported $40 million, stars Australian actor Travis Fimmel as the legendary Ragnar Lothbrok, a leader-in-the-making. He's a guy with revolutionary newfangled technology (a navigation tool and a boat with visionary design) who is burning to go to the heretofore unexplored West and plunder new lands against the wishes of Viking king Gabriel Byrne. Katheryn Winnick plays Ragnar's wife, a "shield maiden" - yes, women really did go into battle alongside their men - and Jessalyn Gilsig of Boston Public, Nip/Tuck and Glee plays the queen, Siggy.

Gilsig told AARP that making the 10-part series in the cold wilds of Ireland was "exactly as it appears, which is to say the producers were so adamant that the world be as authentic as possible and that we look and feel as if we're really integrated into it and not just walking out of our trailers onto a set and then back into the warmth of our trailers. So when we're in the great hall, we have about 200 extras and there's dirt everywhere and sawdust everywhere, and there's open flames everywhere, and there's a goat on a stick and there's wildlife walking around. We'd be in there all day."

The relationship between the King and Queen is a poignant one. "This marriage had been so successful, and then they had had such a profound loss with the death of their son that they lost their way and all of their security and thereby, even as a couple they're having trouble connecting." She added, "I love the idea of taking something so vast as Vikings and whittling it down to the story of a marriage."

The Vikings opener has its flaws, including lack of uniform accents and a couple bits of clunky dialogue - but the series gains its footing and becomes more and more engrossing as it goes along. It's worth taking a look.