Behind the Seams: Costume Designer Debra McGuire
By Dian Holton , June 26, 2013 04:05 PM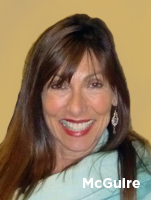 Meet Debra McGuire, the megawatt costume designer who with nearly 30 years of professional experience is a comedic director's dream. She has designed theater, film and TV, and secured her place as one of the fashion industry's most talented people. With two Primetime Emmy Outstanding Costume nominations under her belt and an undying passion to her craft, McGuire took a break from her current television project, The Exes (TV Land, Wednesday, 10:30 p.m. ET) , to reflect on her career and share some styling tips.
How did you get started in this profession? I started designing as a child with Barbie being my early inspiration. At age 7, I submitted a drawing to Millie the Model comic book and it was published! And so my career was launched. Then came the political 1960s consciousness and my life's path found a bend in the road. I became a fine artist, painter, sculptor and then a jewelry designer. The road eventually led me to art school where I obtained a BFA and a master's degree.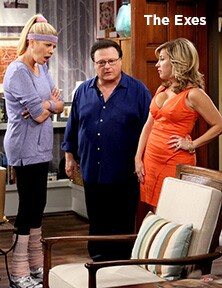 Can you describe your creative process? My creative process differs depending on the requirements of the job. It can also depend on the director and how much freedom I am allowed to exercise. In television, for instance, it is often the opinion of the studio and network that dictate wardrobe choices. This is the least creative process and it is simply a matter of exploring choices to present. On the other end are some films and theater where the director might encourage me to "go crazy," as David Mamet once said. In this particular instance I also designed the wigs and makeup. Juggling projects and shows is about hiring the right crew. I am very lucky to have a talented cadre of costumers that have been in my "work" family for years. One of them now includes my son, Gavin McGuire.
You've had a lot of comedies on your resume: Friends, The 40-Year-Old Virgin, The New Girl and The Exes, to name a few. Is it safe to say that you like to laugh? I do like to laugh on and off the job! I did comedies when my kids were growing up in order to keep the title of "cool Mom" in their eyes.
Which project was your favorite to style? I'd say the play Boston Marriage , written and directed by David Mamet. From the beginning I knew it was the start of a glorious creative relationship. Overall I have loved most of my projects, especially the films and TV directed or produced by Jake Kasdan. His film, Walk Hard: The Dewey Cox Story , spanned over seven time periods and was wonderfully challenging to design.
Which gender is more challenging to wardrobe? Men and women are basically the same challenge, one not being more difficult than the other. The more an actor understands how important wardrobe is to developing character, the better they are to work with. I have all the patience in the world for an actor who is "character" driven. When they are "ego" driven, man or woman, it can be extremely challenging!
Can you give three basic styling tips? 1) Don't follow trends! Biggest mistake for not looking your best! 2) Accent the positive. 3) Great shoes and/or accessories can satisfy a good trend moment.
What 50+ celebrity do you believe has great style? Julianne Moore. She has great coloring and always dresses beautifully for her age, shape and coloring. She is inspiring.
Do plan on retiring? I will never retire. I love what I do and hope this work takes me to the grave. I have a home and studio on the East Coast and I would like, eventually, to spend more time in the studio making art.
Do you ever feel like this is a dream? I wake up every day and feel that I'm living it! I don't know how I got to be so lucky in both my personal and professional life. I believe in giving back to the community and staying politically active. I am devoted to my family and friends and stay in touch with many childhood friends and their children. I don't take anything or anyone for granted, I am grateful for good health and great genes!
Feel Great. Have Fun. Be Stylish. Have style questions or comments? Feel free to leave comments in the box below and also follow Dian on Twitter .
Image courtesy of TV Land
Also of Interest

Join AARP: Savings, resources and news for your well-being
See the AARP home page for deals, savings tips, trivia and more