Jane Russell: A Final Word
By Bill Newcott, March 7, 2011 07:28 PM
I was astonished at the response we got--and continue to get--to my blog following the passing of Jane Russell. Perhaps because she left the show biz scene so long ago (her last movie was in 1970), I figured only the most die-hard fans would be really interested.

Clearly, that's not the case. And as a postscript to that piece, here's my new Movie for Grownups radio program about Jane, her enduring appeal, and her friendship with Marilyn Monroe (along with two nice clips from Gentlemen Prefer Blondes: "Two Little Girls from Little Rock" and "Bye-Bye Baby").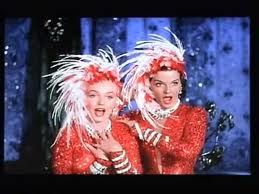 If you'd like to hear more of my two-minute Movies for Grownups programs--including recent shows about the new Rowan and Martin's Laugh-In retrospective, an interview with Sissy Spacek, and a clip from the strangest movie ever made by a major Hollywood studio, check out the AARP Radio site.