Carson and Best Guests Are Back on TCM
Johnny Carson wanted to book Elizabeth Taylor as a Tonight Show guest for 30 years, and in February 1992, just a few months before Carson ceded his late night throne and franchise to Jay Leno, the mercurial actress finally said yes. During the interview the two legends traded good-natured barbs about marriage and divorce (about which each of them knew more than most). It was a meeting of Hollywood royalty, and it's one of the fascinating old-school celebrity chats to be featured this month on Carson on TCM, a new weekly series that compiles the iconic late night host's best-ever interviews. It premieres Monday at 8 p.m. on Turner Classic Movies.
Hosted by Conan O'Brien, each hour-long episode of Carson on TCM features five interviews culled from Johnny's three decades on The Tonight Show. You'll have to wait until the July 29 episode to catch that Liz Taylor interview, but there's more than enough great stuff, including interviews with Doris Day, Ronald Reagan, Steve Martin and Robin Williams, to tide viewers over on Monday nights until then.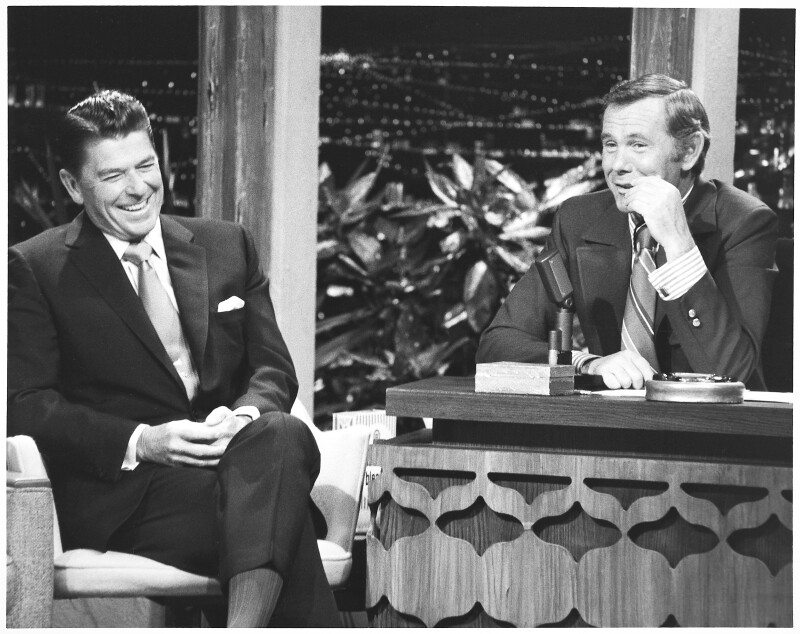 Tonight's premiere includes a 1980 sit-down with Neil Simon, a 1978 chat with Mary Tyler Moore and a heartwarming 1982 interview with a seven-year-old Drew Barrymore. It concludes with George Burns sitting on Carson's couch in 1989. Each week TCM will air a movie featuring the evening's final guest immediately afterward: Monday at 9 p.m., it's The Sunshine Boys, for which Burns won the Best Supporting Actor Oscar in 1975.
It's been more than 20 years since Carson's final sign-off from The Tonight Show, but the current lot of late night hosts could still learn a lot by watching his masterful interviewing technique. Even as he became one of Hollywood's biggest kingmakers, Carson, who died in 2005 at age 79, was always able to retain - on TV, at least - the part of him that was the curious kid from Nebraska, at ease talking to celebrities and regular folks alike.
Nearly a decade after his death, there's still a public fascination with the famously reclusive Carson. An upcoming tell-all book written by an estranged associate already has Hollywood buzzing. Last year, a PBS American Masters documentary about his life, King of Late Night, became that show's highest rated episode ever. The same creative team behind that film produces Carson on TCM, an hour of interesting weekly conversation that's worth adding to your summer viewing lineup. It's a charming trip down memory lane.
Carson on TCM will air on Turner Classic Movies Mondays at 8 p.m. in July. For a full schedule of guests, visit the Carson on TCM web site.