Kevin Kline Loves Maggie Smith as 'My Old Lady'
By Bill Newcott, September 23, 2014 03:52 PM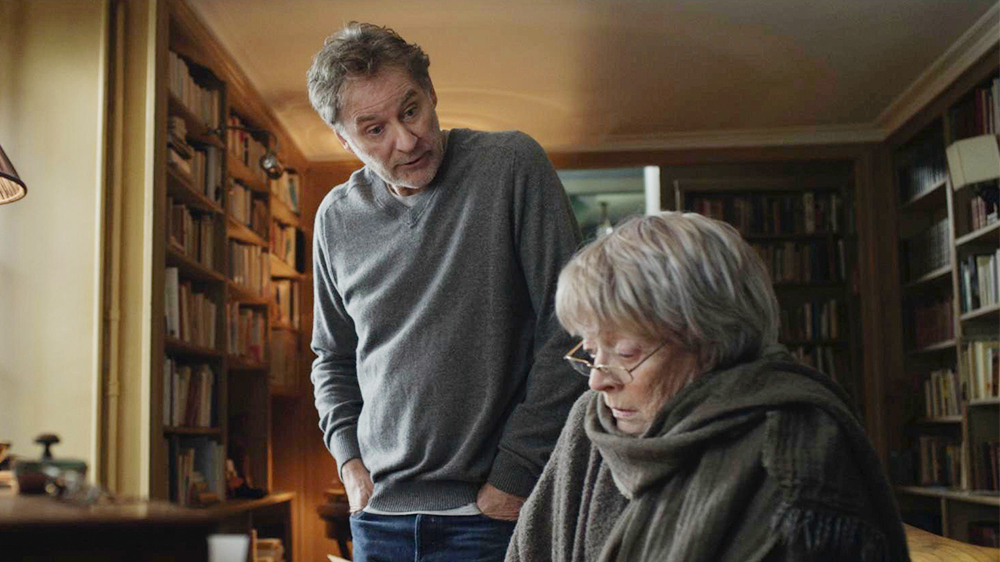 In his new movie My Old Lady, Oscar winner Kevin Kline plays a down-on-his-luck American who inherits a Paris apartment only to find it occupied by a woman (Maggie Smith) with the legal right to live there the rest of her days. Kline chatted about working with the legendary Dame Mags, the fun of making a low-budget indie film, and movie trailers that promise a different film from the one you actually see.

Q: The trailer for My Old Lady makes it look like a warm and delightful film.

A: Have you seen the film? [Laughs] It's not delightful or warm! Well, ultimately it's warm, but it's quite mercurial; it changes tone. It's always comedic, but also very dramatic in places. It gets hot, and rather cold.

Q: Is that a problem? The promotion of a film typically falls to people who weren't involved in making it, so a different movie often gets sold to the audience than the one they will experience.

A: Absolutely. I would hope audiences are savvy enough to understand this is an advertisement for a movie. Some ads for movies I've been in give away too much — the public gets shown the entire film in a nutshell, and now they don't need to go see it. Or else they are extremely deceptive, showing car chases and explosions when it's really a meditation on father-son relationships or whatever.

As far as My Old Lady is concerned, it's good if audiences think it's warm and fuzzy. It starts off comedic and remains so, but there are surprises and twists and unexpected revelations.

>> 19 New Fall TV Shows








Q: What you're talking about has a lot to do with Israel Horovitz [the 75-year-old playwright who directed and wrote the script, based on his play]. Everything he does has levels to it.

A: Exactly. In Israel's work the sense of humor is always there, even in potentially tragic situations. He has a tremendous ear for how real people talk. These are people you recognize — and in whom, perhaps, you recognize yourself.




Q: This is the first film he's directed, and he picked a darned good cast: You, Maggie Smith, Kristin Scott Thomas...

A: Well, he did quote Sidney Lumet more than once. (Or was it Sidney Pollack — or Sidney Poitier?) At any rate, some Sidney once said, "The key to directing is to get the best actors in the world, if you can, and then get out of their way."

That was music to my ears, because there are intrusive directors who try to graft some idea onto your very spirit and soul that doesn't jibe with your own instincts. And that can be a struggle.

Also working in the actors' favor this time around was the film's relatively low budget. It resulted in a lack of time to indulge in things like, "Let's play with this idea; let's try it another way." You had to follow your instincts simply because you had so many scenes to shoot that day. The nature of independent films is you fly by the seat of your pants — and make sure you're wearing your best pants [Laughs].

Q: Does it help to shoot in Paris when you're on a budget? The city tends to dress the set for you very nicely.

A: Yes, Paris has done a terrific job of that, I'd have to say. For years! It's a beautiful place to work.

>> Get entertainment and dining discounts with your AARP Member Advantages.




Q: It's tempting to say it looks like fun to work with Maggie Smith. But I have a feeling she's a very committed actor; while the audience is having fun with her, you have to keep up your game.

A: Working with her was a joy. She's of course extraordinary, always giving you a lot to play off and always with a very refined, seasoned nature. Some actors can try to intimidate you, but I never felt intimidated at all. I was impressed, but never intimidated.

I suppose I could have stopped and thought for a moment while working with her: "This is Maggie Smith! Dame Maggie Smith, whose portrait is hanging in the National Portrait Gallery in London, who's done Desdemona with Laurence Olivier." Instead, you focus on the scene you're doing. So even though it's Maggie Smith, she's still this old lady in my apartment [Laughs]. What am I gonna do with her?

Photos: Cohen Media Group

Also of Interest

See the AARP home page for deals, savings tips, trivia and more.