Mama Kardashian Gets Her Own TV Show
Love her or hate her, you've got to hand it to Kris Jenner for being one heck of a dynamic and hot-looking 57-year-old. The matriarch of the Kardashian clan, as you probably have heard, is about to launch her own talk show, Kris, with a test run on Fox stations in key markets beginning Monday, July 15. She tells AARP that one thing she'd really like to do with her show is give a boost to women who are upwards of 40. It makes her sad to see women "kind of give up on life" after a certain age.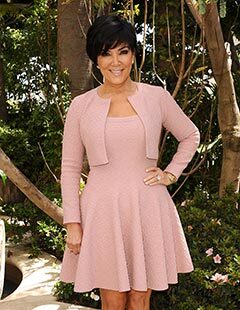 "There's a lot of women that I know, once they hit 40 or 50, they start to get a little bit lazy about the way they take care of themselves. Some don't think that they're entitled to still have it all goin' on," she declared. And that, in Kris' world, is not cool. "When we let it go and we don't care about our appearance anymore, we don't care to look good for someone else, it definitely shows in our whole personality." On the other hand, "When you look good, you feel good about yourself and you present yourself to the world a different way ... If my hair looks good one day, and I feel good about myself, it gives me a little extra spring in my step ... It's empowering for women to feel their best."
Frankly, I was feeling more empowered by the minute. Such is the magnetism and uplifting quality of Jenner, the larger-than-life, much-derided Hollywood "momager" of the hour. The tyrannical diva of reputation was nowhere around when we spoke. Jenner came off down-to-earth and fun, and media savvy enough to tailor some remarks to fit a more mature audience. If her talk show persona is the same as she presented during our conversation, she just might have one of the rare winners in this perpetually overcrowded, high-casualty field.
And as for spring in her step, well, she obviously has tons. Right now, her new baby granddaughter, Nori, (better known as North West, daughter of Kim Kardashian and Kanye West) has her in a state of bliss, because it's heaven when your baby has a baby, as she likes to say. Jenner is also deep into prepping for "Kris" - on which she'll feature a blend of pop culture and celebrity topics, health and fitness and other lifestyle matters - with visits by her famous family (excluding North) a certainty. The show premieres the 15 th in New York, L.A., Minneapolis, Phoenix, Dallas and Charlotte, and on YouTube for everyone else. At the same time, she is filming next season's Keeping Up With the Kardashians. There's so much to do, she often gets up at 3 or 4 a.m. to get in a workout before starting her workday.
"I get excited to get up and get going in the morning and I have a lot going on and I'm lucky and blessed, but you know, I have a little help with the makeup team," she pointed out.
Also of Interest

Join AARP: Savings, resources and news for your well-being
Photo: Jason LaVeris/FilmMagic/Getty Images
See the AARP home page for deals, savings tips, trivia and more