'Last Tango in Halifax': Love, Aged to Perfection
By Austin O'Connor , September 06, 2013 05:41 PM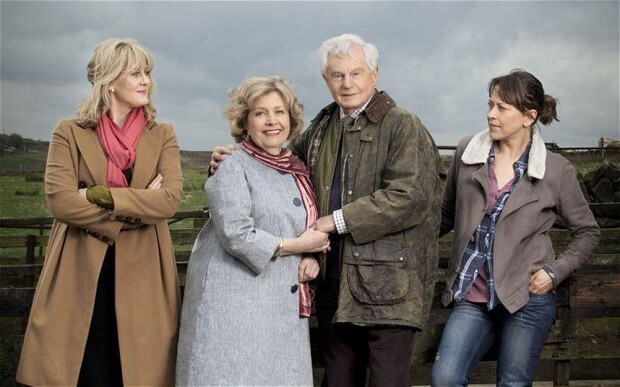 The rekindling of long-lost love is at the center of Last Tango in Halifax, the sterling new drama premiering Sunday at 8 p.m. on PBS stations (check local listings). Already a hit in the U.K. - it won Best Drama Series at this year's British Academy Television Awards - it arrives in the U.S. just a few weeks before the start of a new network-TV season. It's easily the fall's best new series, albeit a short one: just six episodes.
Not to worry, though. Last Tango in Halifax is such a wondrous concoction that you're likely to want more. (Indeed, a second season is already in the works.) It's about Alan and Celia, two seventy-somethings living 30 miles from each other in England's Yorkshire County who reconnect on Facebook after joining the social network at the behest of their grandkids. Sixty years before, they were smitten schoolchildren who parted when Celia's family moved away. In the more than half-century since, each had a long-term marriage (he a contented if not euphoric one, she a miserable match), raised families and were widowed. Suddenly, their foggily familiar names pop up on their computer screens.
Tepid online outreach turns into instant-message catching-up, then mild flirtation. Alan daringly asks Celia if she'd like to meet for coffee. She hesitantly accepts. And off we go. To tell much more of the story might spoil the fun of discovering it for yourself - and with a show this good, that would be a crime. However, it can be revealed - spoiler-free, I think - that Celia's arrival at the coffee shop for their first meeting in 60-plus years is one of the most romantic TV moments you'll ever see.
There are big laughs and more than a few lumps in the throat, but the true joy of Last Tango in Halifax is the seasoned, sometimes weary charm of its leads. As Alan, Derek Jacobi has a perfectly weathered charisma - he's renowned as a titan of Shakespearean theater, but the 74-year-old can play an everyman, too. Reid, 78, a lesser-known but just-as-prolific veteran of the British stage and screen, has arguably the tougher task, and she's more than up for it. Her sad marriage has soured Celia on romance, but watch the way Reid's face changes in Alan's presence: It's a recognition of love that only long, lonely years can earn.
The six-episode first series of Last Tango in Halifax airs Sunday nights at 8 on PBS, beginning Sunday, Sept. 8. Check local listings for additional air times. A second series has been commissioned, and has already begun filming in England.
Also of Interest

See the AARP home page for deals, savings tips, trivia and more