Led Zep, Heart Add to 50+ Rockstravaganza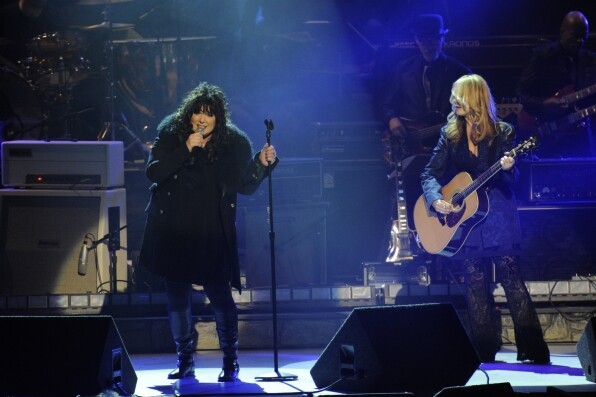 This December is prime time for 50+ rockers. Is it ever! The fact was proven abundantly by stars from the mighty Paul McCartney and Bruce Springsteen to The Rolling Stones, The Who and Bon Jovi in the 12-12-12 benefit for Hurricane Sandy victims this month. (Yes, Mick Jagger looked creaky, but he still ruled the stage!) This week brings the annual after-Christmas treat -- The Kennedy Center Honors, being broadcast by CBS Wednesday, Dec. 26. And front-and-center once again are top-name acts who continue plying the rocker trade as sexagenarians.

Among this year's honorees are Led Zeppelin -- Robert Plant, Jimmy Page and John Paul Jones. Their tribute includes Lenny Kravitz, Kid Rock, The Foo Fighters with Dave Grohl, and those trail-blazing grownup women of hard rock, Ann and Nancy Wilson, a.k.a. Heart. They led the finale of the Zeppelin portion of the program with "Stairway to Heaven" accompanied by Jason Bonham, son of the late drummer John Bonham.

Page, Plant and Jones "were really gracious and they liked what we did with their song," Ann Wilson told AARP.org. "Robert Plant said he usually didn't like it when somebody tried to take 'Stairway to Heaven' and make it their own, but he did appreciate the one that went down the other night. I heard the mix of it, it sounds really great," she added.

The Wilson sisters are in the midst of a remarkable resurgence of their own, with a Top 10 album a couple of years ago ("Red Velvet Car"), and a new album ("Fanatic"), their autobiography and their star on the Hollywood Boulevard Walk of Fame this year. Come April, they'll be inducted into the Rock and Roll Hall of Fame.

Ann recalled playing Led Zeppelin tunes way back when she and Nancy were a mere bar band. They went on to meet their British rock idols, work with Jones on their "The Road Home" album, and cover Zep songs including "Battle of Evermore" with great success.

"Of all the different artists who have taught us through the years, Jimmy Page and all three of those guys have been teachers, because they're masters of the rock craft, you know?" she enthused.

This year's Kennedy Center honorees also include David Letterman, Dustin Hoffman, ballerina Natalia Makarova and bluesman Buddy Guy. The presenter/performer list is full of entertainment deliciousness -- including Tina Fey, Alec Baldwin, Jimmy Kimmel, Robert De Niro, Jack Black, Morgan Freeman and President Barack Obama.

"It's a very classy show; all the segments are great. Of course I loved the Buddy Guy portion. You know I'm biased because it's music," Wilson acknowledged. "But here were some really great musicians -- Jeff Beck, Bonnie Raitt, Jimmie Vaughan -- sounding just really, really amazing."

And by the way, that's Jeff Beck, 68, Bonnie Raitt, 63, and Jimmy Vaughan, 61, honoring Buddy Guy, 76 -- proving again there's no age limit when it comes to making music that endures.