Let's Get This Party Started
By Bill Newcott, February 7, 2011 07:34 PM
I just got an e-mail from one of the more prominent guests attending our Movies for Grownups® Awards banquet here at the Beverly Wilshire Hotel tonight, and he wanted to know what kind of "dress" the affair is for men and women. I answered that I'm wearing a tuxedo, but that's mostly because my four kids are all married now, and this is about the only opportunity I'll ever get to wear my tuxedo again.
It's the women whose mode of dress is most interesting at events like this (well, interesting to men anyway, but I do suspect the ladies keep a wary eye on each other). And from Golden Globes to Oscars Night, this is prime gown-sighting season here in LA. There's this boutique across the street from the hotel that is rather pitiful in its unspoken but plaintive plea to the Rodeo Drive set: "Please... PLEASE wear us to the Oscars!" I'll be curious to see if any starlets pick up the little number that's in the shop's prestigious corner window: the top half is something of a gem-studded corset, the bottom half resembles a huge exploding roll of toilet paper, billowing outward in all directions.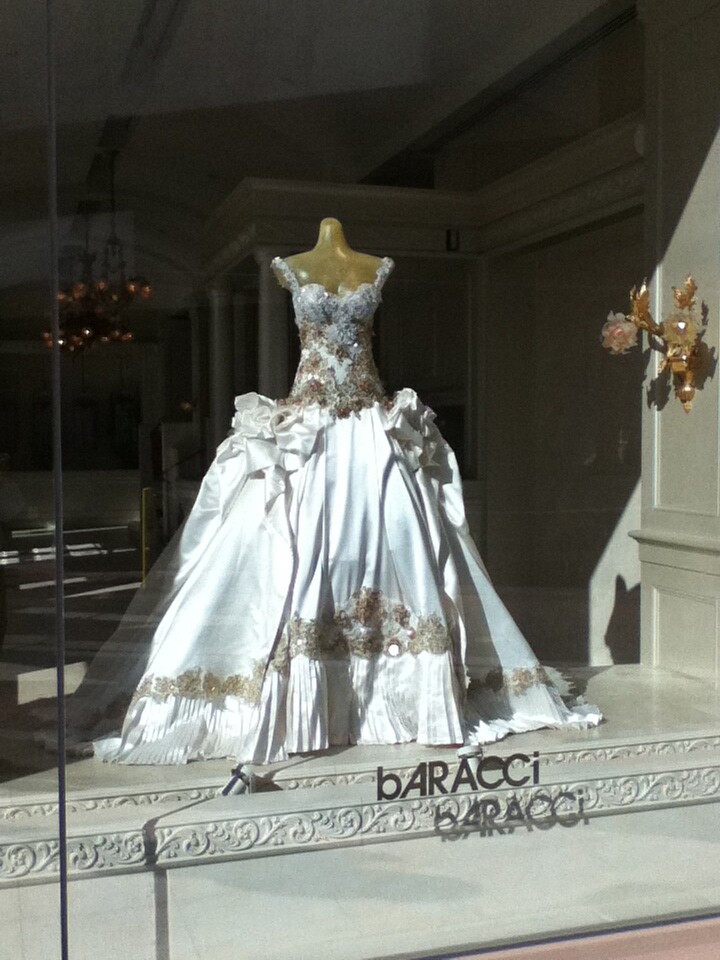 In the next window is a gown that may be made of cotton candy .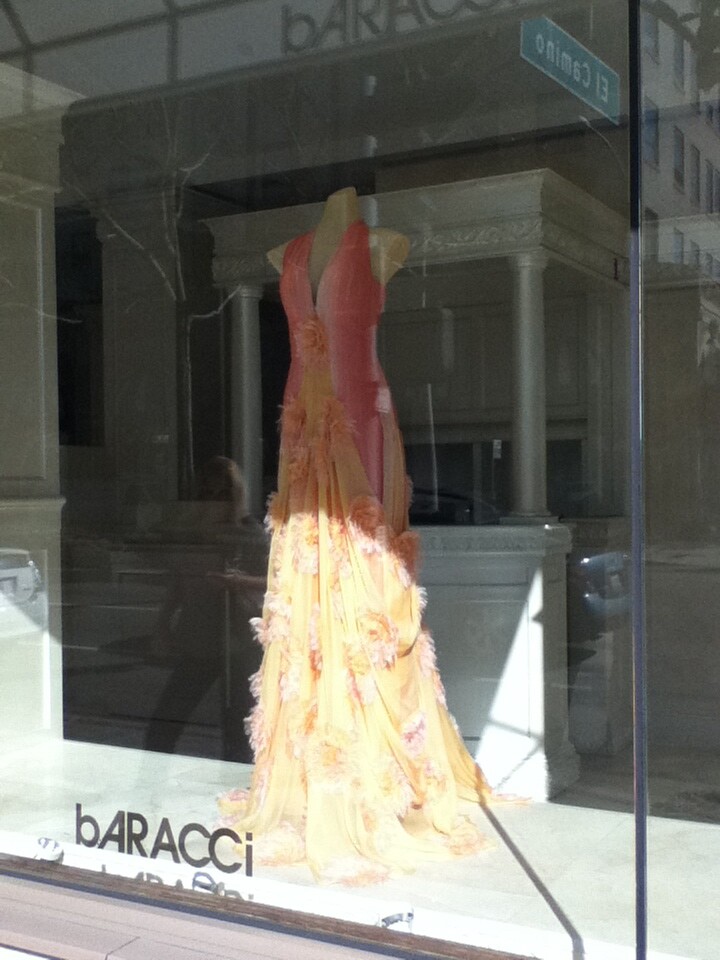 You can get away with that in Southern California, because it almost never rains.
The rooms here at the Beverly Wilshire are all lovely, and they shine your shoes for free while you sleep. In the morning they show up individually wrapped in tissue paper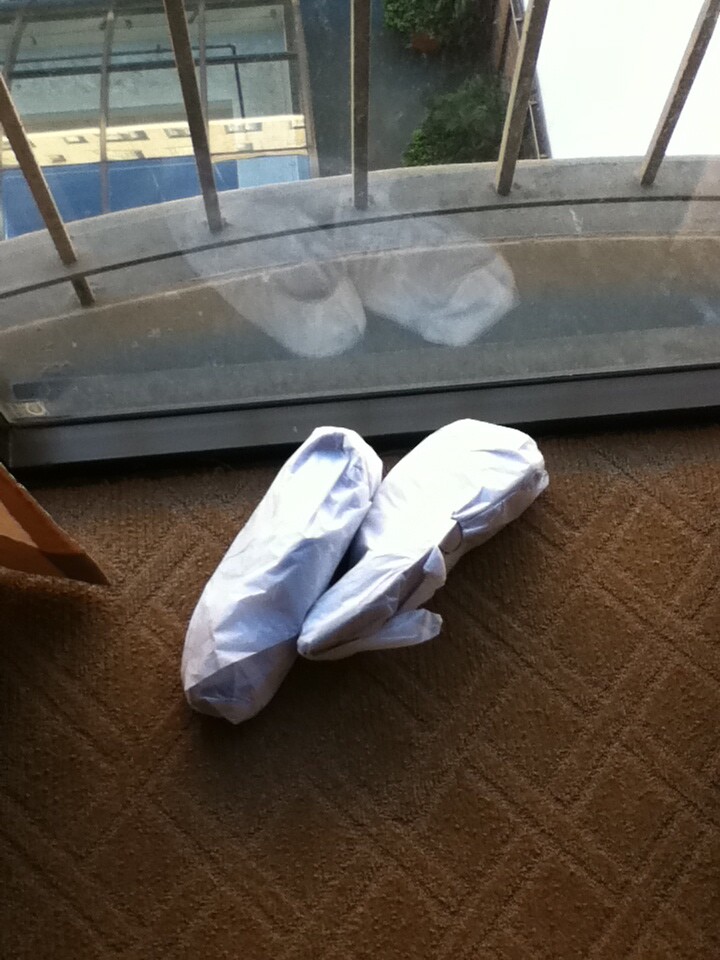 which I guess is just about as luxe as it gets (I've moved up here from my son's place down in Costa Mesa, where you'll recall from my last post I was sleeping on an Aerobed. The main difference between here and there is no 3-year-olds sneak into my hotel room and jump up and down on the bed singing "The Wheels on the Bus Go Round and Round." Although I suspect if I asked, the concierge here would find someone to do that for me). I'm on a lower floor, facing the inner courtyard, and if I lean way forward against the window and press my left cheek to the glass, I can just about make out the top of a mountain.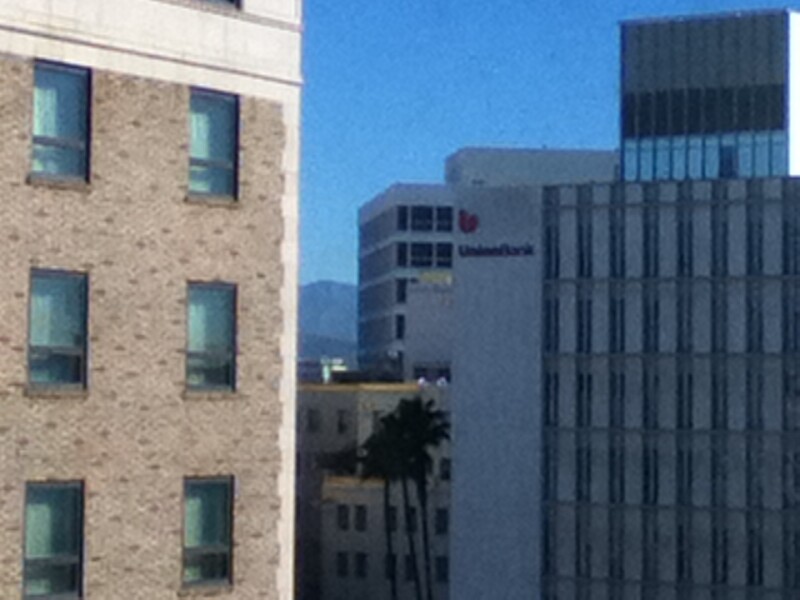 And that's why it's called a "Superior" room.
There'll be lots of pictures of our event in the paper tomorrow. How could there not be: The guest list includes Colin Firth and Geoffrey Rush from The King's Speech, Phylicia Rashad from For Colored Girls, Lesley Manville, Maria Bello, Peter Gallagher, Dana Delany, Helen Mirren (via video), Mimi Rogers, Carl Reiner, Rob Reiner, Jaclyn Smith, Cheryl Ladd, and Kate Mara and Amber Tamblyn from 1 27 Hours-and of course our guest of honor, Lifetime Achievement Award winner Robert Redford.
So it's not surprising you're unlikely to see any pictures of me cropping up in the press coverage. In fact, I do believe the photographers, even the ones we pay to be there, scrupulously shoot around me. So I end up having to fake them out by meandering into the background, pretending to be engaged in conversation with some unseen guest-as in this picture of me from last year's awards, lurking behind Robert DeNiro, Jeremy Piven and Billy Crystal. (See image 5 in the slide show. Very sneaky!)
Big night. Gotta get my nails done. Love ya, babe....Ciao.