Margo Martindale Finds Her Comedy Groove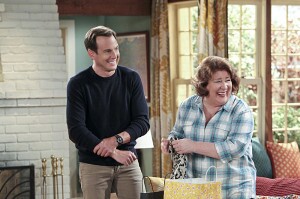 It's a season to remember for actress Margo Martindale. She and Chris Cooper are getting singled out for their performances in the newly-opened big-screen drama August: Osage County -- which is no small feat considering they're in a cast that includes Meryl Streep, Julia Roberts, Sam Shepard and Juliette Lewis. At the same time, her CBS sitcom, The Millers, is earning critical second looks.
Indeed, The Millers has improved with seasoning. That's a good thing, because the Greg Garcia comedy about a newly-divorced couple living with their adult son and daughter has been pulling ratings numbers that suggest it won't be going away any time soon. That, of course, is because of its time slot after The Big Bang Theory but also, recent episodes have gleamed with cleverness and charm. It's a long way from the cringe-worthy pilot with its gas-passing and masturbation jokes, and more of what we would hope to get from a genius talent pool including Martindale, Will Arnett, Beau Bridges, J.B. Smoove, creator Garcia ( Raising Hope) and TV directing giant James Burrows ( Cheers).
"The pilot is a long time ago," Martindale says briskly when the series' beginning is brought up. "I'm happy doing what I'm doing now. I think that we've really gotten into our groove on the show. It takes time, honestly, to find the right footing, the exact right click, but I think we finally landed in the last two or three episodes. I thought the Christmas episode was perfectly toned; I was really proud of that one."
Certainly CBS believes. The network pumped The Millers with a mini-marathon the day after Christmas and trumpeted it as their No. 1 new comedy. The show returns Thursday (Jan. 2) with new episodes.
Martindale, of course, has been a favorite of ours for years -- an actress who consistently delivers quality performances whether she's portraying a ruthless cold war KGB agent, as she does on FX's The Americans, or the matriarch of a family of hillbilly pot growers, as she did on Justified in 2011. You may recall her inspiring Emmy acceptance speech that year: "Who said turning 60 was a bad thing?" she asked, and added, "Sometimes things just take time, but with time comes great appreciation."
Justified, also on FX, changed her life, and she appreciates that still. "I think there's a big difference in the fact that I actually can say no. There was a time when I just waited for the next job to come along -- just financially. It's incredibly hard to say no," she admits. "My whole life has been about saying yes to the next job."
How different things are now for the actress, who is married (to musician Bill Boals) and has a grown daughter. Martindale shares that she is speaking over a 1950's style phone receiver attached to her iPhone. "I love it. It's really fun. Meryl Streep had one and she told me where to get them," she says of her on-screen sister and pal.
>> Get entertainment and dining discounts with your AARP Member Advantages.
Martindale enjoys going back and forth between different types of material, she says. "However, I can tell you, it's so much easier for me to master the drama. Comedy is challenging. I think it's because it's quicker. It's faster. It has to be exact. It can't be thoughtful, usually -- especially with the character I'm playing. She's a quick thinker and a quick talker. So there's no musing about what you're going to say. There's not enough time. It's all about music and words, I think. If you have that going right, and then you also have to have the depth of the character so that it all lives and breathes. That's the trick to it," she says. "And I think I finally in sync with all of it."
Also of Interest

See the AARP home page for deals, savings tips, trivia and more