Meet the Real 'Heaven Is for Real' Family
By Bill Newcott , April 16, 2014 10:07 AM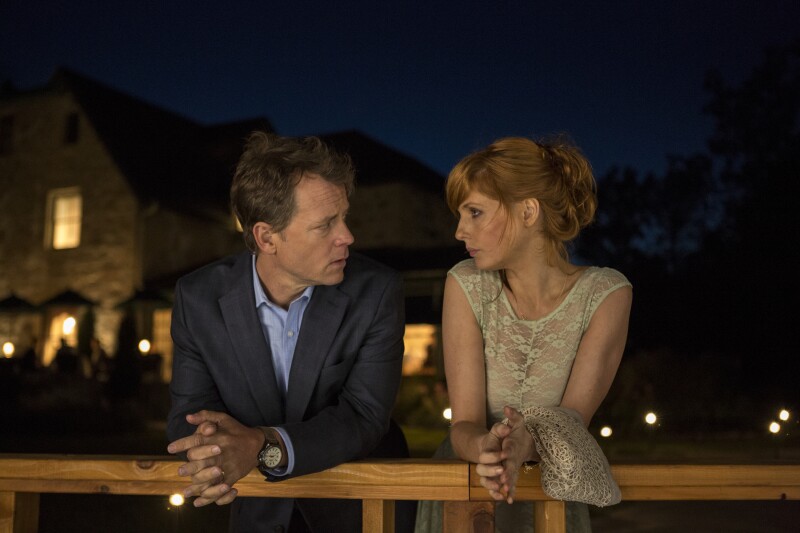 For those unfamiliar with the gentle landscapes of America's Great Plains, Imperial, Neb., may seem literally in the middle of nowhere.
If you drive down Grand Army of the Republic Highway to Imperial from Ogallala, then make a few turns on gravel roads, you'll find the angular profile of Crossroads Wesleyan Church. Behind it stands the modest home of its pastor, Todd Burpo, and his wife, Sonja.
As I approach I recognize Todd, wearing an Imperial Nebraska Fire Department sweatshirt (he's a volunteer fireman) and an Imperial Longhorns baseball cap (he coaches high school wrestling). He is the author of one of the decade's best-selling books, Heaven Is For Real, a New York Times bestseller for 177 consecutive weeks. It's currently at No. 1, as the movie version opens in theaters.
>> Sign up for the AARP Leisure Newsletter
Heaven Is for Real is the story of the Burpos' son Colton, now 14, who at 4 nearly died from a ruptured appendix. During his time on a hospital operating table, he later told his parents, he experienced a trip to Heaven where he heard angels singing and sat on the lap of Jesus. The Burpos dismissed the accounts as a child's Sunday school-fed fantasy until Colton started telling them about visits with people he'd never even known about - people like Todd's grandfather, who had died decades earlier, and a daughter the Burpos lost in a miscarriage before they had Colton.
It was an intensely personal family experience that Todd says he didn't even want to write about at first. But then, "People I didn't even know would come up, knock on our door, and say 'God told me to tell you that you should write a book.' I heard it so much, I began to think maybe these people weren't crazy, and maybe it was what God wanted me to do. But I was resisting it all the way.
"So I said to God, 'I'm not going to call anyone from the publishing world. If they discover me here in little Imperial, Nebraska, I'll write the book.' I felt I was pretty safe. Then I got a phone call: 'You don't know who I am, but I'm with a literary agency and I've heard about your son's story. I'd like to help you write a book.' "
In an exclusive Movies for Grownups interview, Todd Burpo talks about being angry with God - and why it's OK
Since its publication in 2010, Heaven Is for Real has come under fire from all directions. Among those who consider any form of faith pure fairy tale, it's been dismissed as yet another flight of wishful thinking on the part of believers. But some Christians have criticized the book as well for what they consider a simplistic, childish, and in some ways non-Biblical view of the afterlife.
>> Get entertainment and dining discounts with your AARP Member Advantages.
The Burpos don't concern themselves much with either side. From the start, all they wanted was to present Colton's story as he told it to them.
A case in point is Colton's account of meeting his sister. Years before Colton was born, Sonja miscarried. "After we lost that baby," Todd says, "I prayed mostly for Sonja. But then I started to grieve. I didn't know who to talk to. All I could do was ask God for healing for the sadness I had over never getting to know this child. As time went on I forgot about that prayer, but God didn't.
"Five years later, God comes back and answers those prayers. Colton comes to Sonja and says, 'Oh, by the way, Mom, I have a sister in Heaven, and this is what she's like.' We didn't even know what he was talking about until he started to explain that [Sonja] had a baby die in her tummy - and all of a sudden those prayers that I prayed, and I couldn't tell you if God had heard them or not, Colton confirmed that he did."
Everyone's life is filled with stories - some with happy endings, others not so much. Some incidents we're proud of, others we'd just as soon forget. In the environs of Imperial, Neb., where folks chat about their prayer lives as breezily as they'll discuss last Friday night's high school football game, it's not the intermediate episodes of life that matter so much. What counts most is a life's final chapter.
And then, of course, as Todd and Sonja Burpo believe their son Colton learned, there's the epilogue.
Photo credit: Allen Fraser, CTMG, Sony Pictures Entertainment
Also of Interest

See the AARP home page for deals, savings tips, trivia and more